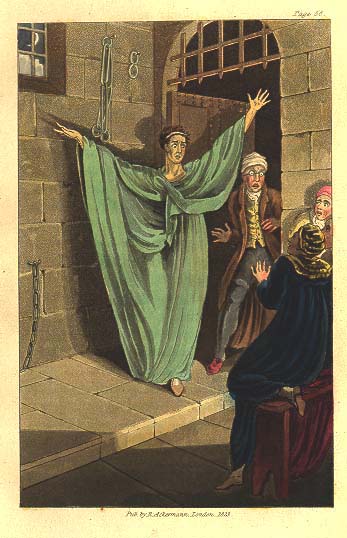 plate opposite p. 58 (The Green Mantle)
The book was published by Ackermann's Repository of Arts in 1823. Rudolph Ackermann was born in Germany, trained as a carriage designer in Paris, and moved to England between 1783 and 1786. By 1800 he had built up his unique business, the ' Repository of Arts', based at 101, The Strand, London. As part of his venture, Ackermann published over 300 books, many with hand-coloured plates. The 'Repository of Art's, however, was far more than a publishing house: it incorporated a drawing school, a Gallery of Ancient and Modern Paintings and Drawings, and a circulating library of prints and drawings, while it also manufactured watercolour paints (experimenting with a number of new chemical pigments) and produced thousands of decorative prints in aquatint, mezzotint, stipple, lithography, steel plate engraving and soft-ground etching. Above all, Ackermann was fascinated by scientific and technological advances, especially in connection with the fine and decorative arts. He was consequently responsible for promoting many inventions: in 1801, for instance, he took out a patent for making substances more water-proof, in 1811 he became the first manufacturer to employ gas lighting, and in 1817 he patented Alois Senefelder's process of lithography in England.
Ackermann's younger sons succeeded him in 1830 as Ackermann & Co. The firm has continued to flourish and now operates as Ackermann & Johnson, running a fine art gallery in London.