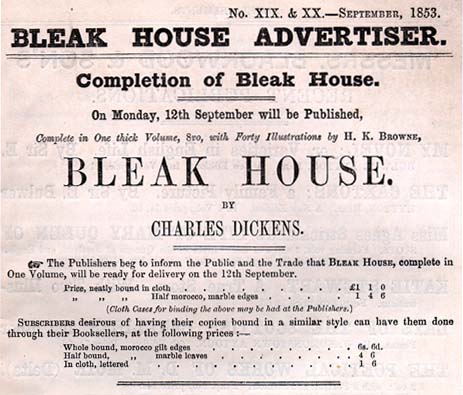 advertisement for Bleak House published in one volume
p. 1 of advertiser, No. 19 & 20, September 1853
In all, the work was a great success. The first number sold out on the first day of publication, exceeding the expectations of both Dickens - who is recorded as cheerfully describing it as 'blazing away merrily' - and his publishers. It was reprinted twice and the press run for the second number was increased to 32,000, but this still required re-printing. Later issues averaged a printing of 40,000 per copy, and although interest waned as the story unfolded and the print run was therefore dropped slightly, an equivalent of 34,000 complete editions were sold in parts. These sales were greater than any of the other serials produced in the 1840s. Serial production was expensive but Dickens nonetheless made a comfortable profit from the work, although he later complained that reports of the amount of money he made from it were exaggerated.

The book was launched as a complete edition on 12 September 1853 and continued to sell well. But although a popular success, it received a mixed critical reception. The Spectator declared it to be 'dull and wearisome' while John Forster, the friend and first biographer of Dickens, decided that it was the book 'in which some want of all the freshness of his genius first became apparent'. Over one hundred and fifty years later, the overall critical view of the novel is rather more favourable, it being regarded as one of the great works of Victorian literature.