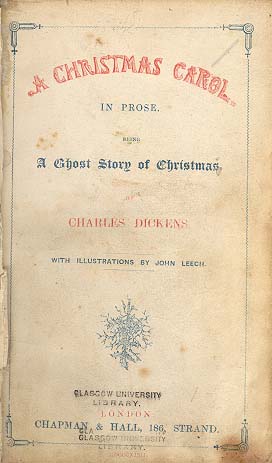 title-page
The December book of the month is a first edition of that festive season favourite, A Christmas Carol.

Already the successful author of Sketches by Boz, Pickwick Papers, Oliver Twist, Nicholas Nickleby, The Old Curiosity Shop, Barnaby Rudge and American Notes, Charles Dickens (1812-1870) was one of the best-loved novelists of the time when he wrote this short novel, which was completed in a mere six weeks in tandem with the production of the eleventh episode of the serially published Martin Chuzzlewit.

Originally published on 17 December 1843, the book was rapturously reviewed and became an instant success, the first 6,000 copies of its initial print-run being sold out by Christmas, with 2,000 further copies from the second printing snapped up by the 6th of January. While obviously enormously popular from the outset, it has remained Dickens's most widely enjoyed work, with hundreds of further reprints and adaptations.