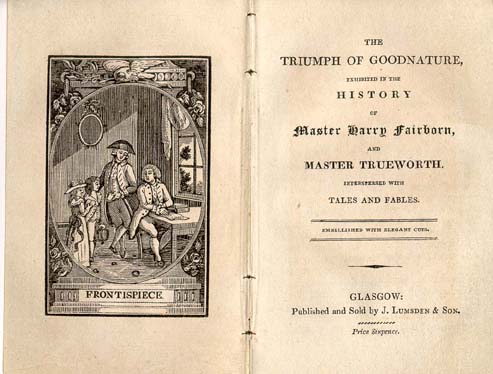 The Triumph of GoodNature exhibited in the history of Master Harry Fairborn
and Master Trueworth interspersed with tales and fables

The majority of the items in this set are undated, as is common with chapbooks. They were published and sold by James Lumsden and Son, a highly regarded stationery company. Besides chapbooks, Lumsdens printed a lot of ephemeral items such as minutes, bills and adverts. According to Neuberg, they printed chapbooks between 1814-1826. Based in Glasgow, the company's high standing is reflected in the fact that it gave the city two Lord Provosts.

This set of children's books is from the Wylie collection. Amassed by Robert Wylie, chairman of the Glasgow firm of furnishers, Wylie & Lochhead, and a founder member of the Glasgow Bibliographical Society, the collection consists of almost 1,000 volumes relating to the history and topography of Glasgow and its environs from the 18th century to the early 1900s. Included is a substantial amount of ephemeral material, including chapbooks, broadsides, playbills, and advertisements.

In addition to the chapbooks in the Wylie collection, there are a wide range of chapbooks across the collections. Our chapbooks catalogue lists those held in Special Collections, as well as holdings for Edinburgh Central Library, Stirling University Library and the National Library of Scotland. It is a very useful resource for those wishing to explore the fascinating world of chapbooks further.