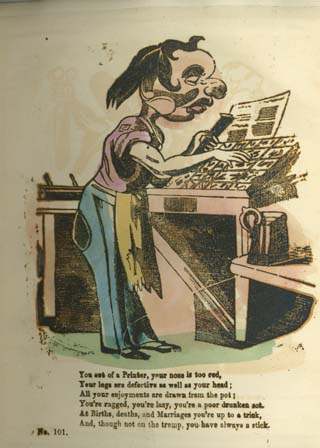 volume 1: Printer
You set of a printer, your nose is too red,
Your legs are defective as well as your head;
All your enjoyments are drawn from the pot;
You're ragged, you're lazy, you're a poor drunken sot.
At Births, deaths, and Marriages you're up to a trick,
And, though not on the tramp, you have always a stick.
Since none of the valentines bear either publication details or dates, it is not certain who was responsible for producing them. The only clue lies in the binding of the volumes which are both stamped 'Valentines and Dabbities ... Glasgow 1850'. It is certainly very possible that the valentines were produced by a Glasgow press. While the Trades Directory of 1790 lists only eight printing houses and sixteen booksellers in the city, the numbers involved in the book and printing trade grew dramatically throughout the nineteenth century until by 1890 there were approximately 300 letterpress printers, 119 publishers, 132 booksellers and 111 bookbinders working in Glasgow. During this period, prominent printers of jobbing work and ephemera such as this in Glasgow included the firms of James Lumsden & Son, Francis Orr & Sons, Archibald Lang, John Muir, W. & R. Inglis, Thomas Duncan, William Carse, James Lindsay and Robert McIntosh. Many of these were rivals who produced similar material, much of which was shamelessly plagiarised. Conversely, there was also some co-operative publication of cheap books under the name of the 'Glasgow booksellers' . As well as producing a miscellaneous range of printed products of every description - including, for example, picture-books, song sheets, circulars, invoices, tickets, business cards, fancy cards, large posting bills, and pamphlets - some printers diversified further: the firm of the 'Poet's Box' (managed by Matthew Leitch and his son William Leitch from 1849-1875), for instance, published all the usual items but in addition offered to produce poems and other pieces of writing upon request.