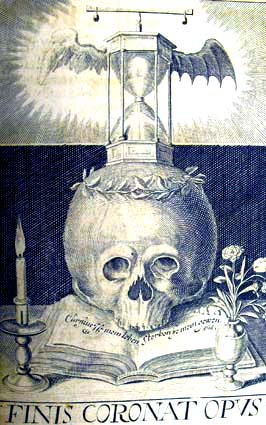 Memento Mori plate (Gemmell 6)

But was the Dance of Death intended as a comfort or a warning?

On one hand, it offers the consolation that regardless of one's status in the mortal life, all are equal before death. It is possible that in bleak times the Dance extended an invitation to laugh at death and an encouragement to live in the moment.

Yet it also constitutes a stark reminder of impending death, and serves a didactic function in reminding the viewer to live and die well. As these two plates show, the Dance could serve as a momento mori in an age when death could strike at any time. James Clark concludes that in classical times the memento mori maxim was an incitement to "eat, drink and be merry;" yet in the Middle Ages, it became a warning to live a purposeful life.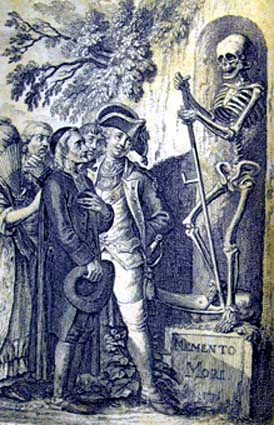 Memento Mori frontispiece plate (Gemmell 14)