Modern Satire and the Dance of Death


Illustration detail from Rowlandson's
The English Dance of Death (Gemmell 20)

After the period of the stylish baroque Dance of Death, the late 18th and 19th Centuries injected new vigour into the format, recapturing the satiric impulse Holbein had exhibited.

The artists featured below moved away from Holbein's familiar scenes and imagined their own scenarios. They introduced their own topics from contemporary life, fuelling the satiric impulse. The Dance of Death became truly modern.


Detail from image to left, demonstrating the tricks of
Death's trade, such as arsenic, gun powder, mercury and opium
The first modern Dance of Death is attributed to Johann Rudolf Schellenberg (1740-1806). His Freund Heins Erscheinungen in Holbeins Manier was published in 1785 with an accompanying text by the German writer and satirist Johann Karl August Musäus (1735-1787). According to Collins, his text and Schellenberg's illustrations "made a decisive break with both the medieval and Renaissance traditions, signalling the form and content of the modern Dance of Death".

Schellenberg abandoned Holbein's characters and scenes in favour of contemporary events and different modes of death, such as the suicide, or the accident. He depicted modern day people and settings, creating a series of vignettes and predicaments, etched in a simple rococo style.

This allowed for satiric comment on current events. The plate to the right features an imaginary scene involving the new high-profile invention, an early prototype hot air balloon; this had been invented by the French Montgolfier brothers two years earlier in 1783. Here Schellenberg portrays a creative death, as the occupants of the basket can be observed plunging through the sky to their death from the burning balloon.


Schellenberg's Freund Heins erscheinungen in
Holbeins manier (Gemmell 14)


In the wigs, fans and skirts of an upper class
lady, Death accosts a well-dressed gentleman
(Gemmell 14)

Schellenberg's Death is a cruel prankster and master of disguise.

To the left, Death wears the elaborate feminine fashion of the age in an attempt to lure a gentleman to his death.

To the right, he disposes of a scholar in an almost ironic fashion as he kills him with a heavy bookcase.


Death is only just seen here in the top
left-hand corner of the plate (Gemmell 14)
In 1827 Richard Dagley's

Death's Doing's

was published in London. This book combined a modern engraving style with witty and often melodramatic verse. Much of the content of this book incorporates modern-day scenes not previously explored by Dance of Death sequences.

Dagley portrayed popular contemporary British sports such as cricket and boxing, where Death takes the role of champion in the ring delivering the fatal blow. Dagley's Death is presented as a semi-skeletal, oddly foppish character.

Below, Dagley pokes fun at the hypochondriac, to whom death appears as a hideous spider-skull hybrid that creeps down the chimney and into his room.


Death as Champion: the depiction of thigh
and pelvic bones here is peculiar (Gemmell 29)

The Hypochondriac, alone in his room, is visited by a
particularly inventive and ghastly incarnation of Death


Verse accompanying The Hypochondriac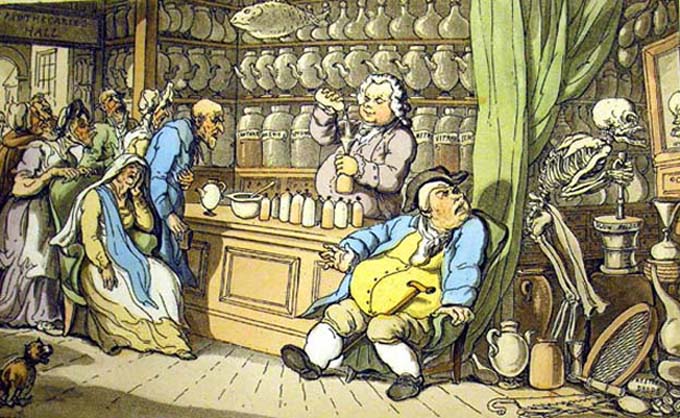 The Quack Doctor at the Apothecary Hall (Gemmell 20-21)

Perhaps the most original and light-hearted of all the modern Dance of Death series, however, is Thomas Rowlandson's

The English Dance of Death

. Dating to 1815-6, this work combines the bright and colourful cartoons of Thomas Rowlandson (1742-1823) with the acerbic and witty poetry of William Combe (1742-1823).

Again, this series employs largely contemporary scenes with modern-day characters and surroundings, at events such as the Hunt (shown right) where the old adage "the hunter becomes the hunted" takes on a new meaning. Above, Death displays a sense of irony as he poisons the remedies that unsuspecting customers queue up to buy from the Apothecary.


The Hunt (Gemmell 20-21)

Frontispiece from Rowlandson's English Dance of Death
(Gemmell 20-21)

Below, Death carts off a nagging wife, much to her husband's delight. As we learn in the accompanying verse, he has plans to replace her with the pretty young chambermaid, seen at the edge of the frame. The wife is depicted in a particularly unsympathetic way, and Rowlandson paints her as physically grotesque with a hooked nose, excess flesh, and a wicked temper.



The Virago (Gemmell 20-21)
In comparison with the previous generation of Dances, the characters shown by Rowlandson are a motley parade of caricatures and stereotypes with exaggerated facial features and gruesome expressions; in fact, none of the characters incite much sympathy. Collins claims that the images "vacillate between the comic, the grotesque and the bathetic." Rowlandson spares no one as a target of scorn. The figure of Death is particularly vicious, hunting down his victims with glee and cruel delight.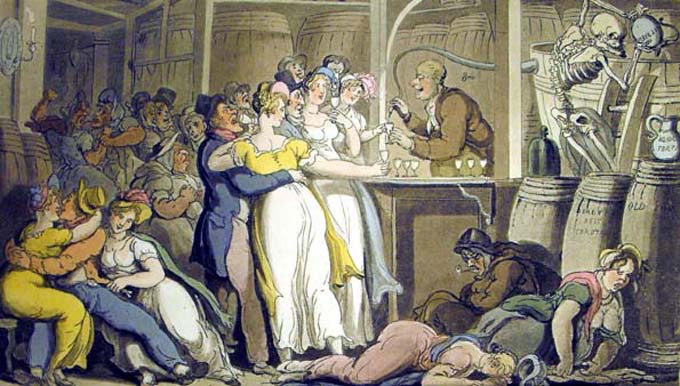 The perils of drink are highlighted, as Death is shown spiking the drams at the gin shop with poison (Gemmell 20-21)

The interest in the Dance of Death and its application to the modern world continued throughout the 20th century. Several artists employed the premise to create images of the two World Wars. The Gemmell collection features several volumes depicting Death at work on the battlefields of the 20th century, such as Frans Maasereel's

Danse Macabre

(Gemmell Add. f7). In vivid black line drawings (which we are unfortunately unable to reproduce for copyright reasons) even Death looks amazed at the extent of the destruction caused during the Second World War.
---
---