Dr Iain Banks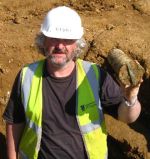 R220 Level 2, Gregory Building, Glasgow G12 8QQ,
Senior Lecturer in in History/Battlefield Archaeology (History)
Dr Iain Banks is the Executive Director of the Centre for Battlefield Archaeology. He has worked on battlefield projects across the UK, Europe and Africa, both as a geophysicist and excavator. He plays an active part in the teaching of the MLitt in Battlefield and Conflict Archaeology at the University of Glasgow. His main interests in the subject are the Prehistory and Anthropology of Warfare and Warfare in the Twentieth Century.