Latest news
Latest News
Dalrymple Lectures Monday 18th - 21st Feb 2013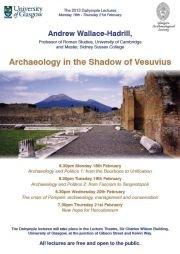 Poster for Dalrymple lectures Feb 2013
The Gaelic Language Initiative
The University's first ever 5-year Gaelic Language Plan has been approved by the national development agency for Gaelic, Bòrd na Gàidhlig, and will be launched in early 2013. In November 2012, the University hosted its first Lathana Gàidhlig Gaelic
Language Day, to promote Gaelic language and culture across the campus. Events included a range of events including language taster sessions and conversation opportunities to live traditional music from students and a lunchtime concert by Karen Matheson, one of Scotland's most renowned Gaelic singers (240 present). Fiona Dunn and students participating in the Gaelic Language Residency Scheme visited University College Dublin in October to learn more about Irish language initiatives and share knowledge and experiences.
New Gaelic signage is now on display in the Fraser Building restaurant.
New appointments
New Deputy Head of School
Dr Jeremy Huggett has agreed to act as Deputy Head of the School of Humanities.
Hume Brown Prize in Scottish History
This year's joint winner of the Hume Brown Prize in Scottish History (for the best first book in Scottish History) is Steven Reid for his Humanism and Calvinism: Andrew Melville and the Universities of Scotland, 1560-1625 (Ashgate 2011).
Steven shares the prize with Katie Barclay for her Love, Intimacy and Power: Marriage and Patriarchy in Scotland, 1650-1850 (Manchester University Press, 2011). Katie is a former undergraduate and postgraduate of ours who is now attached to the Centre for the Study of Emotions, University of Adelaide.
Rannsachadh na Gàidhlig 7

Chaidh còrr is 70 pàipear a lìbhrigeadh aig Rannsachadh na Gàidhlig 7 a bha ga cumail eadar 21 agus 23 Lùnastal le Roinn na Ceiltis is na Gàidhlig. 'S e Rannsachadh na Gàidhlig a' phrìomh cho-labhairt sgoilearach a bhuineas ris a' Ghàidhlig, a litreachas, a cultar agus a h-eachdraidh. 'S e seo an t-seachdamh co-labhairt anns an t-sreath a thòisich an Obar Dheathain ann an 2000 agus a tha ga cumail ann an diofar oilthighean gach darnacha bliadhna. Bha mu 120 sgoilear à Alba, Èirinn, a' Chuimrigh Canada, Na Stàitean Aonaichte, a' Ghearmailt agus an Òlaind an làthair ann an Glaschu airson èisteachd ri pàipearan air farsaingeachd de chuspairean bho na meadhan-aoisean tràtha chun an latha an-diugh. Chaidh a' cho-labhairt a chur air dòigh le taic bho Soillse (an Lìonradh Nàiseanta airson Glèidheadh agus Ath-bheothachadh na Gàidhlig) agus bho Bhòrd na Gàidhlig. Bha prìomh òraidean gan lìbhrigeadh leis an Ollamh Rob Dunbar, Oilthigh na Gàidhealtachd is nan Eilean; an t-Ollamh Máire Herbert, Coláiste na hOllscoile Corcaigh; an t-Ollamh Elmar Ternes, Oilthigh Hamburg; an t-Ollamh Dòmhnall Meek, Oilthigh Ghlaschu; an Dr Màrtainn MacGriogair, Oilthigh Ghlaschu. Thèid taghadh de phàipearan bhon a' cho-labhairt fhoillseachadh le Roinn na Ceiltis is na Gàidhlig an ath-bhliadhna.
Over seventy papers were delivered at Rannsachadh na Gàidhlig 7 which was hosted by Celtic and Gaelic between 21 and 23 August. Rannsachadh
na Gàidhlig is the foremost academic conference dealing with the Gaelic language, its literature, history and culture. This was the seventh conference in a series which began in Aberdeen in 2000 and which is held in a different university every two years. Around 120 scholars from Scotland, Ireland, England, Wales, Canada, the United States, Germany and the Netherlands attended with papers ranging from topics on the early middle ages to the present day. The event received assistance from Soillse (the National Research Network for the Maintenance and Revitalisation of Gaelic Language and Culture) and from Bòrd na Gàidhlig. Plenary lectures were delivered by Professor Rob Dunbar, University of the Highlands and Islands; Professor Máire Herbert, University College Cork; Professor Elmar Ternes, University of Hamburg; Professor Donald Meek, University of Glasgow and Dr Martin MacGregor, University of Glasgow. A selection of papers from the conference will be published by Celtic and Gaelic next year.
Vox Populi
In a landmark series of seminars running from September 2012 to May 2013 the Centre for Scottish and Celtic Studies will offer a unique perspective on how the "voice of the people" has been heard in Scotland since medieval times. Historians, political commentators and literary scholars will consider the role that ordinary Scots played in some of the most significant events over the past seven hundred years, and whether their views and opinions were taken into account.
The University of Glasgow has also linked up with the Scotsman newspaper which will publish an abridged version of each talk on the day of delivery.
The seminars are free and open to all.
Forthcoming lectures in the series
Scottish medieval history documents put online
Thousands of the oldest documents in Scotland's history are being made public through an online database charting life in the Middle Ages. The People of Medieval Scotland project has catalogued about 21,000 people mentioned in 8,600 documents written between 1093 and 1314. The database is being launched by Education Secretary Mike Russell, who called it a "world class" resource. It will include free software specially developed for use in school
An t-Ollamh Urramach Ruaraidh MacThòmais (1921–2012)
Chaochail an t-Ollamh Urramach Ruaraidh MacThòmais an t-seachdain 's a chaidh ann an Glaschu – sàr-sgoilear agus sàr bhàrd. Bha Ruairidh MacThòmais na ollamh an seo, an dàrna ollamh ann an Cathair na Ceiltis, eadar 1963 agus 1991 nuair a leig e dheth a dhreuchd.
We heard the sad news of the death last week of Emeritus Professor Derick Thomson (Ruairidh MacThòmais). Professor Thomson was one of the most prolific and influential Scottish Gaelic poets of the past century and was Professor of Celtic here at the University of Glasgow between 1963 and 1991.
---
Soillse PhD Scholarship 2012
Applications are sought for a funded PhD at the University of Glasgow as part of the Soillse research network on the topic of 'Urban Gaelic Communities'. Deadline for applications Friday 18 May 2012. For further information, see Soillse PhD Scholarship 2012
Tòmas MacAilpein, a PhD student in History, supervised by Dr Martin MacGregor and Dr Sheila Kidd, has been awarded the prestigious Carnegie Trust Robertson Medal for 2011. The Robertson Medal is awarded annually to the most outstanding application to the Trust for doctoral funding. The Trust receives around 150 applications every year and funds only fifteen. The best proposal is awarded the Robertson Medal.
Tòmas graduated with a First Class honours degree in Gaelic Language & Culture from Sabhal Mòr Ostaig, University of the Highlands and Islands, in 2008 and then came to the Universities of Glasgow and Strathclyde to take a jointly-taught MSc in Social History. His doctoral project proposal, supported by a Carnegie scholarship, will examine the social and cultural life of Gaelic-speaking Highlanders in their culture-region – a' Ghàidhealtachd – from the close of the Victorian era to the middle of the 20th-century. The working title of his thesis, which will be written in Gaelic, is: 'Work, Community and Culture in the Western Highlands, 1890-1950'.
The full story is available through Campus eNews.
New discovery of Celtic chieftain's fort set to rewrite Scottish history
Glasgow Guardian Digital Archive goes live
Lynn Abrams (History) has been appointed Visiting Professor in the Centre for Women's and Gender Studies, University of British Columbia, in 2011 and has been awarded an AHRC Collaborative Doctoral Award and an RSE Workshop grant (with Alex Shepherd as CI) for work on Scottish Masculinity in historical context. On 13 May 2010, she launched the new journal, Gender & History, produced from Glasgow.
Ian Anderson (HATII) has won an AHRC Collaborative Doctoral Award in conjunction with Glasgow Museums.
Colleen Batey (Archaeology) has European Science Foundation funding for a workshop on 'Viking and Norse Materiality in the North Atlantic'.
Alexander Broadie FRSE (History) is PI and Steven Reid (History) is CI of a 3-year Leverhulme International Network Grant on Scottish Seventeenth-Century Philosophy in France and Scotland.
Kenneth Brophy (Archaeology) has won an AHRC grant on Reading between the lines: The Neolithic cursus monuments of Scotland.
Joy Davidson and Sarah Jones (HATII) have won a JiSC project 'Incremental - a step by step approach to informing, improving, and increasing research data curation practice'.
Peter van Dommelen (Archaeology) has received a British Academy award to study rural settlement and agrarian production in Punic Sardina in 2010-11.
Ms Felicity Donohoe (History) has been awarded a 2010-11 Dissertation Fellowship at the McNeil Centre for Early American Studies, University of Pennsylvania.
Steven Driscoll and Kenneth Brophy (Archaeology) have won a major award from Historic Scotland.
Bill Hanson (Archaeology) is a PI and Kenneth Brophy is a CI partner in the major ArchaeoLandscapes Europe project in 2010-15.
Luke Houghton (Classics) is Frances Yates Visiting Fellow at the Warburg in 2011.
Jeremy Huggett (Archaeology) had a Teaching Excellence award presented at graduation on 29 June.
Richard King (Philosophy) has received an award from the Chiang Ching-Kuo Foumndation for his work on the Good Life in Greek and Chinese Antiquity.
Roibeard Ó Maolalaigh (Celtc and Gaelic) has won a major award from Sabhal Mor Ostaig for funding a dictionary of the Scottish Gaelic Language and has won a major SFC award to develop research capacity to support the maintenance and revitalisation of Gaelic language and culture, and an award for a Gaelic Language Officer.
Tony Pollard (Archaeology/GUARD) has received an award from the National Trust for Scotland for work on Culloden Battlefield.
Adam Rieger (Philosophy) received an AHRC award for a project on 'Indicative Conditionals'.
Alison Yarrington FRSE (Institute for Art History) and Ian Anderson (HATII) received a 2010-11 grant for further work on the project Mobilising Mapping the practice and Profession of Sculpture in Britain and Ireland 1851-1951.