Prof Lorna Macpherson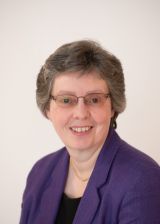 Professor of Dental Public Health (Dental School)
Associate Academic (Institute of Health and Wellbeing)
telephone: 01412119751
email: Lorna.Macpherson@glasgow.ac.uk
Biography
Lorna Macpherson qualified BDS from the University of Glasgow in 1982. After completing junior clinical posts in Glasgow and London, she enrolled as a postgraduate student at Glasgow Dental School, successfully gaining her PhD in 1989 based on in situ studies of the plaque microflora associated with early caries.
A post-doctoral fellowship took her to the University of Manitoba where, after two years, she was appointed an Assistant Professor. During this time she gained the Fellowship of the Royal College of Dentists of Canada.
On return to a clinical lectureship at the University of Glasgow in 1992, she commenced specialist training in Dental Public Health, being awarded the MPH in 1994 and the certificate of completion of specialist training in 1997. She was appointed a Senior Lecturer in Dental Public Health Sciences in 1995 and Honorary Consultant in Dental Public Health in 1997.
She became Head of the Community Oral Health Section in 2002 and gained promotion to a Personal Professorship in Dental Public Health in 2006.
Research interests
Professor Macpherson leads the Community Oral Health Research Group. One of the main themes of the group is socioeconomic inequalities in oral health as they relate to dental caries and oral cancer.
Her principal research interest involves oral health improvement and caries prevention work, particularly associated with children from socio-economically challenged areas.
She plays a lead role in developing, implementing and evaluating national Government-funded child oral health improvement programmes.
Grants and Awards listed are those received whilst working with the University of Glasgow.
Public Health Inequalities Training
NHS Education for Scotland
2010 - 2013

Evaluation of West of Scotland Child Oral Health Pilot Programme
Scottish Executive Health Department
2005 - 2016

An investigation into the use of Dental Hygienists as assessors for basic dental health risk assessment
Scottish Government
2005 - 2005

The effect of remuneration and education on the implementation of research evidence to reduce inequalities in oral health
Scottish Executive Health Department
2001 - 2005

Evaluation of National Pre-School Pilot Project
Scottish Executive Health Department
2001 - 2005