Dr Wendy Anderson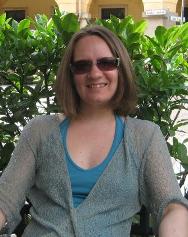 Senior Lecturer (English Language)
Adviser of Studies (Arts College Academic and Student Administration)
telephone: 01413304596
email: Wendy.Anderson@glasgow.ac.uk
R213 Level 2
English Language
12 University Gardens
Glasgow G12 8QH
Research interests
Corpus linguistics
Semantics
Metaphor
Collocation and phraseology
English, Scottish English and Scots
Modern Romance languages
Translation theory and methodology
Biography
I have been a Lecturer in English Language at the University of Glasgow since 2009, and Senior Lecturer since 2012. From 2004-2008, I was Research Associate for the Scottish Corpus of Texts & Speech (SCOTS) and Corpus of Modern Scottish Writing (CMSW) projects, which created large online corpora of texts in Scottish English and varieties of Scots. Before moving to Glasgow, I was a Teaching Fellow in French at the University of St Andrews, where I also completed my PhD in French linguistics.
I am Director of the Scottish Corpora projects, and an Associate Director of the Historical Thesaurus of English.
I am currently an Associate Editor for LLC: The Journal of Digital Scholarship in the Humanities, and a Subject Editor (Linguistics) for Forum for Modern Language Studies.
In session 2012-13, I am on research leave.
Projects
Projects which I run or am associated with include:
Mapping Metaphor with the Historical Thesaurus
Scottish Corpus of Texts & Speech
Corpus of Modern Scottish Writing
I currently supervise PhD and MPhil students in the areas of corpus linguistics, semantics, metaphor and genre analysis. Please contact me if you would like to discuss a proposal for postgraduate study within my areas of specialism.
In session 2012-13, I am on research leave.
Normally, I teach on several Honours courses in the English Language subject area: Semantics, Grammars of English, Culture and English Language Teaching, and Literary and Linguistic Computing. I also teach on the Level 1 English Language course, and convened this course from 2009-2012.