Thinking of applying?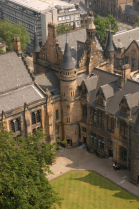 Centre for the Study of Literature, Theology and the Arts
The Centre for Literature, Theology and the Arts was created nearly thirty years ago as an innovatory space to accommodate multi-disciplinary work that does not fit into a single subject area. Though the Centre has its base in Theology and Religious Studies, it has close links with other subject areas within the University, particularly English Literature and Art History; and staff from Classics, Politics, Film, Theatre and TV, Music, and the Humanities Advanced Technology and Information Institute contribute to the Centre's weekly seminar programme. The Centre also enjoys close relationships with the Glasgow School of Art and the Glasgow Museums.
Though our context is primarily Christian (and post-Christian), we also work in the areas of Judaism, Islam, Buddhism, Hinduism, and Chinese Religions. (To be a member of the Centre, no religious membership is required). Our context is both local – we work with local writers, galleries and artists – and international – we have links with scholars in Scandinavia, Poland, Russia, Germany, France, Japan, China, the USA and elsewhere.
The Centre has close links with the International Society for Religion, Literature and Culture and was the inspiration for the Oxford University Press journal, Literature and Theology.
Postgraduate Research
Perhaps the best introduction to the Centre is through a brief glimpse at some of the work of the postgraduates, who in a real sense 'are' the Centre. The postgraduates define the particular shape the Centre takes each academic year. Recent and current PhD dissertation topics include:
"Inventing the Original": Poets, Readers and Biblical Criticism
Memorialisation and Jewish Theology in the 20th and 21st Centuries: Monument, Narrative and Liturgy
Ambivalence and the Divine the Feminist Fiction of Michele Roberts and Sara Maitland
Embracing the Goddess: Spiritual Autobiographies and Thealogical Shift
Writing a Material Mysticism: H.D., Hélène Cixous and Divine Alterity
Imaging Texts: Ancient Biblical Texts and Contemporary Aesthetics