Creating Robots that Care: An Afternoon and Evening of Social Robotics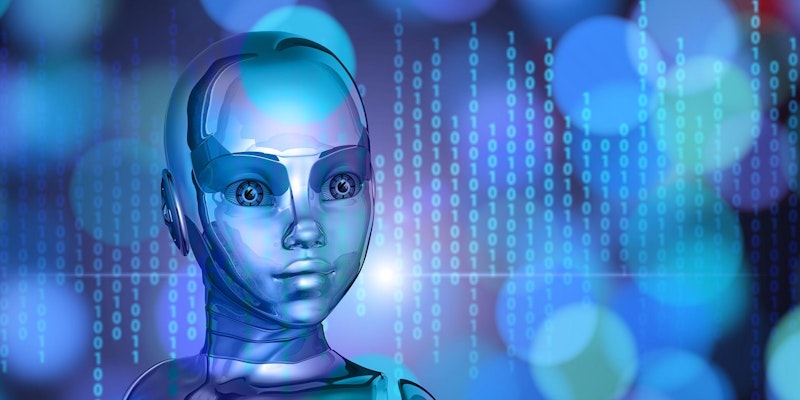 To honour the pioneering work of Karen Spärck Jones, the British Computer Society holds a distinguished lecture in her name each year, celebrating a prominent female computing researcher. This event is aimed at a wide general audience: we welcome all ages and levels of computing experience. This year's lecture will be delivered by Dr Maja Matarić and will be streamed live from the School of Computing Science (hosted by the Athena Swan Committee), preceded by a public social robotics demo session.
Maja Matarić is the Professor and Chan Soon-Shiong Chair of Computer Science, Neuroscience & Pediatrics; Founding Director at the USC's Robotics and Autonomous Systems Center; and Director of the USC's Robotics Research Lab. She will speak about socially-assistive robotics, which is a new field of intelligent robotics that focuses on developing machines capable of assisting users through social rather than physical interaction.
The social robotics demo session will take place in the Atrium of the Wolfson Medical Building from 15:00 - 17:00. All are welcome to come and meet the University's team of social robots -- no registration is required, and refreshments will be served.
The demo will be followed by a live stream of the lecture in Room 208 of the Sir Alexander Stone building. The event will begin with an introduction and networking drinks from 17:30; the lecture stream itself will take place from 18:00 - 19:30. Please register (for free) to attend the lecture live stream at http://tinyurl.com/robots-that-care-glasgow.
Another Best Student Paper Award at ECIR 2017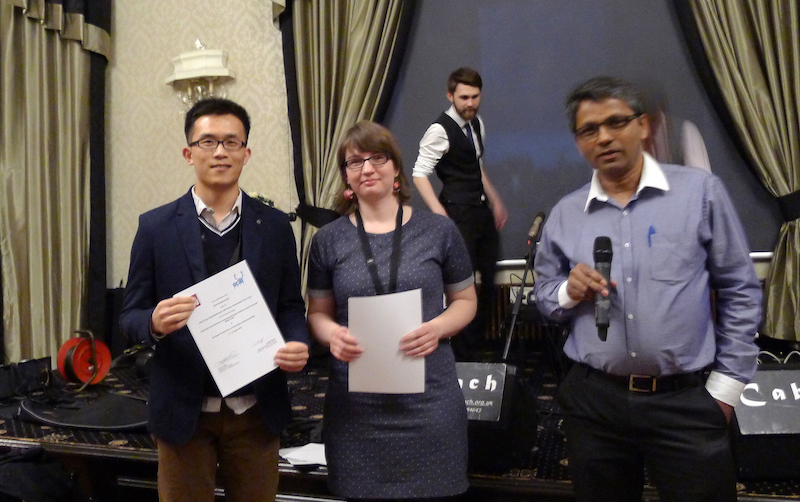 Congratulations to @anjiefang who won the Best Student Paper Award at #ecir2017 @GlasgowCS pic.twitter.com/Gfhi9hgD4i

— TerrierTeam (@TerrierTeam) April 11, 2017
Our PhD student, Anjie Fang (pictured left above), has won the Best Student Paper Award at the 39th European Conference on Information Retrieval (ECIR) 2017, for his paper "Exploring Time-Sensitive Variational Bayesian Inference LDA for Social Media Data", co-authored with Craig Macdonald, Iadh Ounis, Philip Habel and Xiao Yang. The conference, held in Aberdeen just before Easter, is the premier European forum in the field of Information Retrieval. To help social scientist examine the topics discussed on social media network, Anjie has been working on generating valuable topics from social media data. The awarded paper presents a novel topic modelling approach using the time dimension of social media posts. The use of time dimension not only helps to generate more interpretable topics, but also provides users the topical trends. This award builds upon Anjie's Best Paper Honourable Mention award at ECIR 2016 in Padova, Italy. Well done Anjie et al!
Students create software for Business School
Undergraduate teams have worked with the Adam Smith Business School to develop a custom management app for a car manufacturing game using Lego bricks. The QpQ game is a business simulation that teaches students about sales, logistics, production, and other factors involved in manufacturing. In the game, students have to build made-to-order model cars in timed rounds.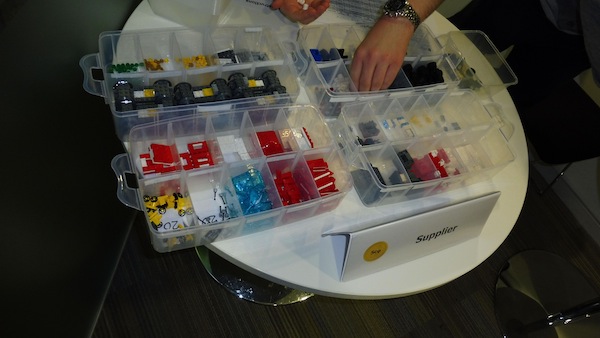 Over the past six months, Computing Science students have been developing bespoke software to capture, track and analyze data during QpQ games, to help participants learn more about their performance. Previously, Dr Rob Dekkers had been running the game with only paper-based information records and audit trails.
Doctoral student Marianna Koukou said, "The new applications have a wide range of features. The students have delivered high quality software." Dr Rob Dekkers added, "We didn't know what to expect when we started this development project, but we have discovered that Computing Science students can work well with Business projects and customers in terms of understanding the domain and developing custom solutions. I truly enjoyed working with the students for their Level 3 Computing projects."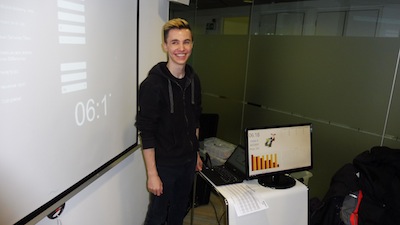 The students pointed out that the game helped them to enhance their teamwork and communication skills, as well as to get a rough idea what is like to work under pressure and the importance of good time management. Students also agreed that "the QpQ simulation seems to be an excellent teaching resource to identify and understand how IT can be used to improve communications between different departments of an organisation and enhance their efficiency."
Student Showcase June 2017
The GU Tech Society and the School of Computing Science are hosting a showcase for students to present their talents and ideas.
The Student Showcase invites graduates and non-graduates to present their projects, applications, inventions and ideas to alumni, industry, guests of the School and members of the public.
Being an exhibitor at the fair will give you a chance to:
Expose your work to the professional world.
Meet with potential employers.
Take your idea further.
Meet possible partners.
Win a prize
Exhibitors will be given a stand and offered a workshop to help to prepare their exhibition. To sign up, complete the registration form (link available in the GU Tech Society's Facebook Group facebook.com/ gutechsoc/).
SOCS Hosts CERN Spring Technology Campus 2017 Tickets Available
As the inaugural event of the Celebration of 60 Years of Computing in Glasgow, the School of Computing Science is hosting the CERN 2017 Spring Campus on the 4-7th April. The Spring Campus is dedicated to Information Technology and Computing and brings a new dimension to CERN's scientific and cultural activities. Over four intensive days, this event will bring together experts from around CERN, to meet with future engineers and scientists in a program of scientific and technological dissemination and cultural exchange.
The core programme will consist of 25 hours of sessions from specialists in their respective fields, covering topics such as information technology, internet security, software development, team work, project management and software testing.
Along with the lectures, the campus includes hackathon challenges and two social events in the Hunterian Museum and West Brewery, where speakers and students will share time together, opening a door to the students to know more about CERN or ask questions related to the school. Students will be immersed during four days in a multicultural environment where all activities, sessions and debates will be in English promoting the interchange of cultures and thoughts.
The target audience is primarily final year BSc students and MSc students in the field of Computer Science or related, who want to know more about the latest technologies and industry trends in IT, although other students are welcome to make an application. Applications are also welcome from students from other Universities.
Registration for the Campus costs £50, covering all four days. Registration includes a welcome pack containing an event t-shirt, pen and notepad. Registration also includes lunches for all four days, tea, coffee and snacks during breaks and drinks and canapes at the evening social events.
Find out more information about the Spring Campus and how to register here.
Professor Stephen Brewster elected FRSE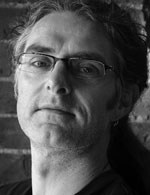 Congratulations to Stephen Brewster, Professor of Human Computer Interaction in the School of Computing Science, who was amongst 60 outstanding academics, celebrated professionals and royalty elected as Fellows of the Royal Society of Edinburgh on 15 February 2017.
Further information can be found in the RSE press release http://www.rse.org.uk/wp-content/uploads/2017/02/Press-Release-The-RSE-welcomes-60-new-Fellows.pdf
SESAR2020 Scientific Committee kick-off meeting in Brussels
Glasgow's Professor Chris Johnson, pictured far right, one of 12 European academics that make up the SESAR2020 Scientific Committee at the kick-off meeting for European aviation research held over 14 and 15 February 2017. The SESAR Scientific Committee's objective is to reinforce the SESAR Joint Undertaking (SJUs) innovative and scientific approach to researching future European Air Traffic Management systems and procedures.
Further information at http://www.sesarju.eu/
SICSA DEMOfest 2016
New research from the School of Computing Science at the University of Glasgow featured heavily in SICSA DEMOfest 2016, the tenth Computer Science and Informatics research showcase organised by SICSA. SICSA (the Scottish Informatics and Computer Science Alliance) is a collaboration between 14 Scottish Universities, including the University of Glasgow.
The event began with keynote talks, including one by Craig MacDonald on "Query Efficiency Prediction and Green Search Engines". It then continued with hands-on demonstrations of 50 systems developed by researchers from across Scotland. Eleven of the demos were by researchers from the University of Glasgow:
Maria Evangelopoulou: The "What, when, why, how and what now?" of an attack in an ICS/SCADA network.
Richard McCreadie: EAIMS: Emergency Analysis Identification and Management System
Xiao Yang: Social Sight: Tracking Murder and Bribery Reports during Elections
Foteini Katsarou: Subgraph Querying with Parallel Use of Querty Rewritings and Alternative Algorithms
Gözel Shakeri: Novel In-Car Interfaces
Dong Bach Vo: SAM: Automated Attachment Analysis Using the School Attachment Monitor
Theodoros Kalogeropoulos: Using Behaviour Change Techniques to Inform App Design
Oana Andrei: Twitter Voter Intention Classification System
Ruth Hoffmann: Comparing Verification and Simulation for Autonomous UAV Behaviour
Mary Ellen Foster: MuMMER: MultiModal Mall Entertainment Robot
Natalia Chechina: Towards Scalable ROS Multi-Robot Systems

Some Tweets from the event:


.@iadh just kicked off #DEMOfest2016. Followed by @craig_macdonald, talk on green search engine pic.twitter.com/yi1noFniGq

— Anjie Fang (@anjiefang) November 11, 2016
Come to see two works from @TerrierTeam : electric valence and emergency analysis system #SICSADEMOfest2016 #demofest2016 pic.twitter.com/FyQjrpyJyh

— Anjie Fang (@anjiefang) November 11, 2016
Here are the only 3 presenters at today's @SICSA_Scotland DEMOfest in "Robotics and Autonomous Systems" area @WomenInRobotics @GlasgowCS :) pic.twitter.com/nHq34MrPVu

— Mary Ellen Foster (@MaryEllenFoster) November 11, 2016
Showcasing the HAPPINESS haptic prototype at @SICSA_Scotland Demofest. pic.twitter.com/1WyOPJE3Xy

— Alex Ng (@_AlexNg1) November 11, 2016
Great @SICSA_Scotland #demofest today. Many interesting projects, many interesting and interested people. pic.twitter.com/hL8zvCeiGr

— Ruth Hoffmann (@ruthhoffmann) November 11, 2016
Hmm, I think someones been enjoying the free drinks at the @SICSA_Scotland DEMOfest #demofest2016 pic.twitter.com/8DSx6k1qAf

— John Rooksby (@johnrooksby) November 11, 2016
SoCS student wins a Young Software Engineer of the Year award
At the ScotlandIS award ceremony on the 6th of October 2016, Andreea Lutac from the School of Computing Science won second prize in the Young Scottish Software Engineer (YSE) of the Year Awards.

The prize was awarded for the exceptional quality of the software engineering in her research-oriented level 4 project on "Real-time Robot Camera Control in Erlang". The project was supervised by Dr Natalia Chechina, Dr Gerardo Aragon Camarasa and Prof Phil Trinder, and resulted in a peer reviewed conference paper. The YSE awards are made for the best undergraduate software projects by any Scottish computing science graduate, and include a trophy and a prize of £2K.
Andreea's YSE prize is a companion to the YSE prize awarded to Blair Archibald, currently a PhD student within the School of Computing Science.
See Andreea talk about her project in the following Skills Development Scotland and ScotlandIS video: https://www.youtube.com/watch?v=4uuLO17PQBU&feature=youtu.be
More information at http://www.scotlandis.com/scotsoft/young-software-engineer-of-the-year/
Professor Muffy Calder OBE recognised with Suffrage Science award