Sporting 7 in a row
Sporting 7 in a row
Issued: Tue, 21 Mar 2017 07:30:00 GMT
The University of Glasgow has notched up its seventh Glasgow Taxis Cup victory in a row, writes Christos Othonos, University of Glasgow Sport.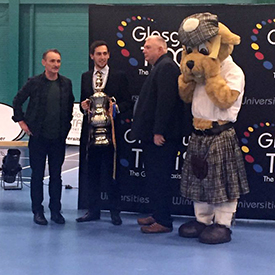 Last Wednesday 700 students from the University of Glasgow, Strathclyde and Glasgow Caledonian, battled it out to be crowned 2017 Glasgow Taxis Cup Winners. The University of Glasgow pipped Strathclyde to the title by seven points and in doing so won their seventh title in a row which. The trophy was presented in front of a capacity crowd at the Scotstoun Badminton Academy.
The three universities competed in 16 different sports and 21 events in total. The sports included basketball, rugby, hockey, fencing, badminton, equestrian and many more. Events took place at venues across Glasgow including Stepps, The Arc, Garscube, The Stevenson Building and Scotstoun Sports Campus which was home to the finale, as well as 6 different sports. Three points were awarded for coming 1st, two for 2nd and one point for 3rd with Glasgow winning 12 sports in total.
The event is now in its 13th year and has grown hugely since Glasgow Taxis became the title sponsor in 2011. In 2015, honorary team captains were appointed: Scottish International Footballer Pat Nevin was appointed GCU captain, Lynne Beattie, Scotland Volleyball Captain who represented Great Britain at the Olympics was appointed Strathclyde Captain and ex rugby star and broadcaster John Beattie was appointed Glasgow captain. All are Alumni of their respective Universities.
GUSA President, Ruari Thomson, was understandably delighted: "Our teams have been training hard all year, put in a great shift over the course of the competition and it is great to see that being rewarded with bringing home the trophy for a 7th year in a row.
"The event was a massive success and I think a big thanks has to go to Stephen Flynn and the whole team at Glasgow Taxis as it couldn't have happened without them.
"All three universities fought their hardest and I think today has shown how great student sport is in Glasgow right now. Bring on next year!"
Find out more
---