One of the first Glasgow University men to enlist was Francis John MacCunn. From Tarbert in Scotland, he was an Oxford graduate. In 1914, he was working as an assistant in the Department of History, having just completed his book The Contemporary English View of Napoleon. A Captain in the Officers' Training Corps, his enthusiasm to join up is probably not surprising. He wrote home regularly throughout his military service and these letters are now also preserved in Special Collections (MS Gen 532) and supplement the Battalion's archive in providing a first hand record of the experience of the Great War.

His first letter home, sent on 27th September 1914, is typical of the spirit of optimism that prevailed amongst the recruits of Kitchener's New Armies during the early months of the war. He predicts that 'in all human probability' he will survive the war, even suggesting that there is 'a chance of the war being over before we go out'; but if they are sent on active service, he doubts that they will be involved in any 'serious affair'.

MacCunn began his service with the Camerons as a lieutenant and was soon put in command of a platoon of University men. His letters often criticise the cumbersome, rather amateurish, army machine in which he had found himself embroiled. He found 'military life very stunting to the intelligence' and, in his opinion, not much could be expected of the New Army 'for some time'. He was especially scathing about many of his superior officers: while the men included some 'excellent material', and the subalterns were keen, he found the captains 'woefully ignorant' and 'stupid'. He referred to his own Company Commander as 'Captain Panic' and complained that the men were being taught wrongly - 'How we got through the Boer war with such officers, goodness only knows'.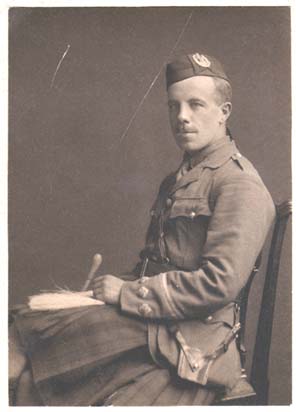 MS Gen 1376/11/1
Francis MacCunn