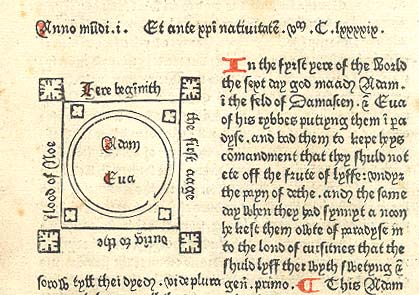 3v: Fructus Temporum
The chronicle is a comprehensive history of England from its first discovery and settlement through to the year 1461. The reigns of some 100 rulers of Britain are described in a chronological order. Chivalric in tone and displaying a fondness for vivid battle scenes, many mythical elements, such as the founding of Britain by Brutus (from which the title comes) and the King Arthur legend, are incorporated. It was intended to be read with pleasure, and its literary and dramatic qualities include a frequent use of direct speech, giving immediacy and a dramatic quality to a number of scenes.
The text's popularity has been gauged from the large number of copies which have survived, with over 240 manuscript copies alone still being extant. The fact that the work was also printed in thirteen editions before 1528 would seem to be further evidence of a demand for it. Of the manuscript copies, versions exist in the three major literary languages of medieval England: Latin, Anglo-Norman French and English. However, nearly three quarters of these are in English and it is argued that the proliferation of vernacular copies further demonstrates the Brut's popularity with the laity.