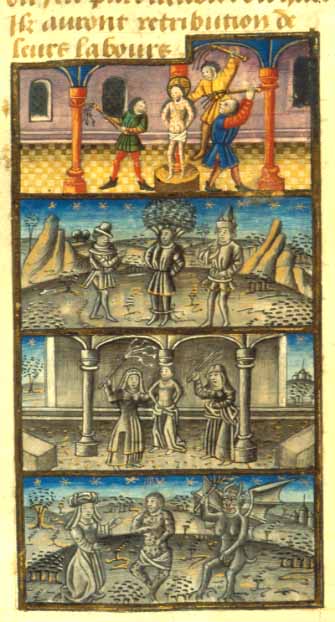 Folio 29v
Jesus Scourged; Achior scourged; Lamech tormented by his wives; Job reviled by his wife, and scourged by Satan.
The pictures are important in giving visual emphasis to the relationship between the Old and New Testaments in the work's central concern with the doctrine of the Fall and the Redemption. These connections are depicted in the panels, each containing a coloured scene from the New Testament and three scenes in grisaille showing prefigurations of it from the Old Testament. The medieval concept of typology - that the contents of the New Testament were foreshadowed by events recounted in the Old - is thus dramatically enlivened in the illustrations.

Originally written in Latin some time between 1309 and 1324, the work was immensely popular in the later Middle Ages and was quickly translated into German, French, English, Dutch and Czech. As well as over three hundred manuscript copies surviving, there were also many fifteenth century blockbook editions and sixteen incunabula of the text produced. According to a recent study of the many different copies of the book, in its text and pictures 'the Speculum contains a vivid account of the religious and artistic forces at work in the fourteenth and fifteenth centuries, when the lessons in piety, the allegories, and all of the arts were devoted to instilling in the minds of the people the need for salvation and the dread of eternal damnation' (Wilson & Wilson p.10).

Four French translations from the Latin are known to have been made in the fifteenth century, including this version from 1455. The translation has been attributed to Jean Miélot, a canon of Lille in Flanders, who was the secretary of Philip the Good. The wording in our copy, however, does not follow precisely that of the original which still survives in Brussels, and according to at least one scholar, it is actually the work of an as yet unidentified writer.