Edmund moved to Scotland in 1838 to take up a professorship at Glasgow University, a post he held for nearly forty years. He was also rector of the University from 1884. Although he married in 1842 and his first child was born in 1844, for the most part his family remained at Park House, the Lushington family home, in Maidstone, Kent. For seven months of the year Edmund lived away from his wife, his brothers and sisters and his four children.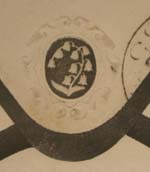 Flower motif on envelope
(MS Gen 557/2/62/1)
In order to keep in touch while they were apart, all members of the family, as well as a number of close friends, wrote regular letters to Edmund. Everything that might normally be said in person was transferred to the page and so from the letters emerges a family portrait that takes in everything from details of everyday domestic and academic life to profound expressions of grief at the series of terrible losses suffered by the family between 1854 and 1874.