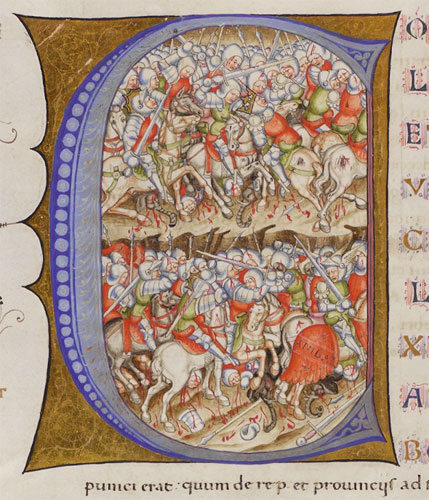 Book Ten: initial letter showing, in the bottom half of the picture,
Hannibal's defeat at the Battle of Zama
(folio 279v)


Livy on the Battle of Zama (202BC):
"Next day, to decide this great issue, the two most famous generals and the two mightiest armies of the two wealthiest nations in the world advanced to battle, doomed either to crown or to destroy the many triumphs each had won in the past."

He records the devastation on both sides:
"More than 20,000 Carthaginians and their allies were killed on that day, and about the same number captured, together with 132 military standards and eleven elephants. The Romans lost about 1,500 men. In the confusion Hannibal escaped with a few horsemen and fled to Hadrumetum."

Pliny the Younger wrote in a letter that, in AD79, he had remained at Misenum, reading and taking notes from a volume of Livy, while Mount Vesuvius erupted nearby. Livy's work continues to be read today, not least because of the importance and dramatic nature of the events he described and the vivid manner in which he wrote. Most surviving fifteenth-century copies of his work are quite plain productions. This illustrated copy is a rare and stunning exception.