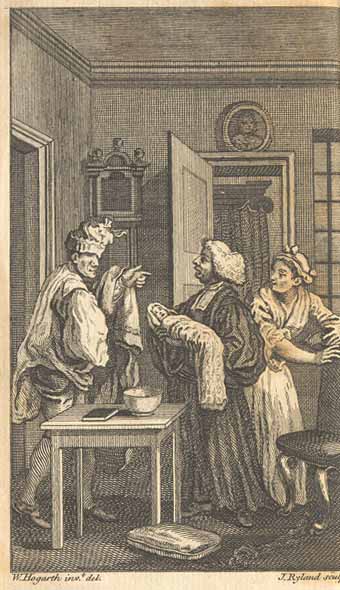 frontispiece of vol. 3 (Hepburn 9)
As the title suggests, the novel sets out to tell the life story of Tristram Shandy, its narrator, beginning with his conception. However, he has so much to relate about his eccentric family that he does not manage to get born until the 4th volume. Realizing, finally, that his task is hopeless - it taking him more time to tell the story than to live his life - the novel ends by concluding that its readers have been taken in by a cock and bull story. While a hilarious and often bawdy read which delights in parody and satire, repeated images of disconnection and human isolation give the work a serious underlying theme: the hero ultimately doubts how much he can know, even about himself. As the first novel about writing a novel, in which the author frequently breaks into imaginary dialogues with the reader, it has been lauded as the ancestor of stream of consciousness fiction.

The first two volumes of the novel were a great success and made Sterne famous throughout Europe. As well as producing the further volumes of the tale, Sterne cashed in on his success by publishing 2 volumes of sermons attributed to Parson Yorick, the minister mentioned in the opening volume of Tristram; drawing on his experiences as a priest, Yorick is said to be a veiled self portrait of the author.

William Hogarth (1697-1764), the artist now chiefly remembered for his satiric engravings, was commissioned to design two plates to be used as frontispieces in two of the volumes. One depicts Corporal Trim reading a sermon on conscience to the sleeping Dr Slop, Uncle Toby, and Walter Shandy, and the other (shown to the left), the baptism of Tristram. Based on a vivid appreciation of contemporary life, these engravings capture the elusive humour of Sterne perfectly.