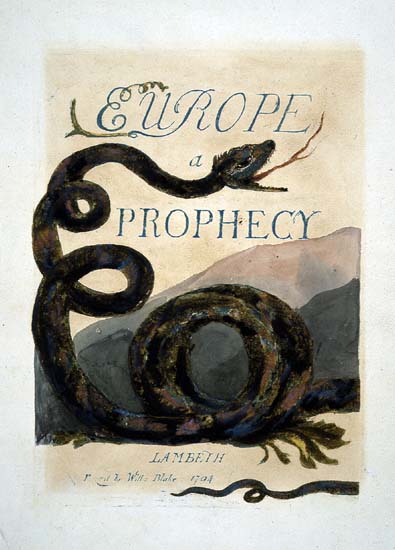 The title page of Europe: It has been argued that the serpent,
representing Orc, is quite deliberately placed opposite Urizen
in the frontispiece. Urizen represents Creation while Orc
represents the Fall. This juxtaposition is intended to
underline the error of the material world where,
ironically, it is the Creator who limits and the serpent,
as revolution, who releases.
Blake created his own mythological creations to populate his poems and paintings: concepts and ideas became personified into universal representations. He used these mythological characters to explain and act out his singular view of history. According to Martin Butler, Blake divided the nature of man into four personified elements:

"Los, the imagination and eventual source of redemption; Urizen, the reason and vengeful Jehovah of the Old Testament as opposed to the merciful Christ of the New; Luvah, the senses; and Tharmas, the emotions". Each of these characters has an emanation, or female "offshoot", who is commonly a negative character attempting to dominate her male counterpart.

Europe sees the interaction between Los and his emanation Enitharmon, who represents pity. They have given birth to Orc, the spirit of energy - another important force for salvation. Orc's birth angers Urizen, who feels threatened, and Los who is jealous; consequently Orc is "bound". The poem describes Enitharmon's dream as she sleeps for eighteen hundred years. According to Dörrbecker the dream sequence allows Blake to explore "the growth of the old order, of the unholy alliance of organized religion with tyrannical monarchy, and the challenge confronting the ancien régime in the revolution at the end of the Eighteenth Century".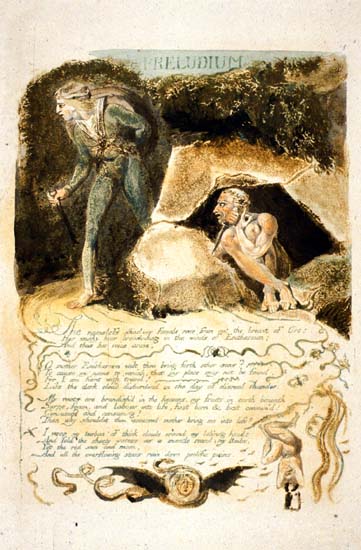 The first page of the preludium. The image shows a bandit waiting
to mug an unwitting traveller. While continuing the dualism
of good and evil from the frontispiece and title page, the focus is shifted back to the human world. The image has also
been read (by Erdman) as a political allegory adapted from one of Gillray's prints. The mugger in the cave represents
Edmund Burke, an outspoken critic of Republican France,
waiting to attack the"Everyman on his peaceful pilgrimage".