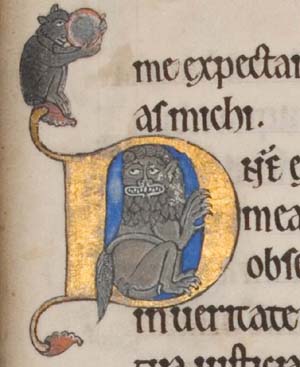 folio 176r: inhabited initial incorporating a lion and
a monkey holding a mirror (psalm 142)
Three commemorations for St Augustine, Bishop of Hippo, are also noteworthy. This, allied with the absence of the translation of St Benedict, suggests that the manuscript may have been produced to be used in a house of Augustinian Canons or by an individual connected with that order. The cycle of Virgin illuminations could support this link with Augustinian use as several events that took place at sites served by Augustinian canons are depicted; for example, the Church of Santa Maria in Mount Sion - reputed to be the site of Mary's death - was an Augustinian house. Meanwhile, the prominence of hermit saints mentioned could indicate that the book may have been made for a reclusive.
Although we really have no idea for whom the manuscript was originally made, in his thesis on the work, Jonathan Greenland argues that it may possibly have been Roger de Mowbray (d.1188), a Yorkshire magnate. From one of the greatest Anglo-Norman families of the Twelfth Century, he had been a crusader who was also a notable religious benefactor: by the end of his life he had founded more than thirty mainly Augustinian and Cistercian monasteries and nunneries, including the Augustinian house of Newburgh near to his castle in Thirsk.
Returning to the sequence of Virgin miniatures which make this manuscript so unique, it is known that the issue of the Assumption was fiercely debated in northern England at the time of the Psalter's production. In Yorkshire, for example, William of Newburgh composed a commentary on the Song of Songs at the request of his friend Roger, the Cistercian abbot of Byland (1142-1196), another monastery founded by de Mowbray; in this work he fully supported the corporal Assumption. Intriguingly, Bridlington Priory (founded by de Mowbray's father-in-law, Walter de Gant) has a sculpture which has been stylistically linked to the manuscript. Bridlington was a reputed centre of learning in the Twelfth Century; its Prior, Robert of Bridlington (1147-1165), wrote many theological works and had access to an extensive library.