Arderne's outstanding achievement was his work on the treatment of anal fistula, one of the deadliest operations in medieval surgery. His great advance at the time was to avoid the corrosive after-care treatment used by other practitioners; a great believer in cleanliness, Arderne counselled against meddling overly with wounds and dressings, thereby aiding the healing process. His thorough knowledge of the medical uses of herbs and plants is obvious, while it is also apparent that he was fully aware of the effects of the mind on the body in sickness and health.

But although pioneering in some ways, Arderne still believed in some of the rather unscientific medical practices of the Middle Ages. His methods are often obscured by his use of nonsensical names for ointments and plaisters, while many of his recipes for prescriptions are vague - appparently deliberate ploys to prevent his competitors from stealing his ideas. He was prepared to include folk charms and popular remedies in his texts, and believed in practising astrology in the diagnosis, treatment and prognostication of ailments, as was the norm. This link between astrology and medicine is typified in the 'zodiac man', a representation of celestial influence on the human body found in hundreds of medieval medical manuscripts. As shown in the illustration here, the zodiacal symbols are painted on the body in the appropriate places, from Aries for the head and face to Pisces for the feet. The signs demonstrate which parts of the body are influenced by which astrological sign, thus indicating the most auspicious times for performing operations.

In this respect, Arderne's beliefs and practises were typical of the late medieval English doctor. The Twelfth and Thirteenth Centuries had seen great advances in medicine, the classical teachings of Hippocrates and Galen being given prominence with the growth of universities throughout Europe. But the practical folk medicine of Anglo-Saxon leeches, with their use of plants and willingness to intervene with surgery, was still very influential.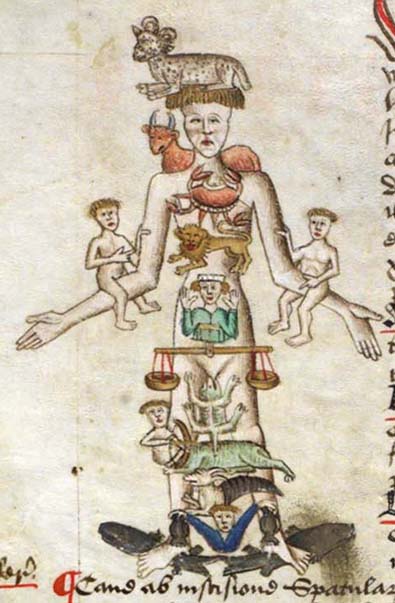 Detail of illustration of a 'zodiac man' (folio 47v)