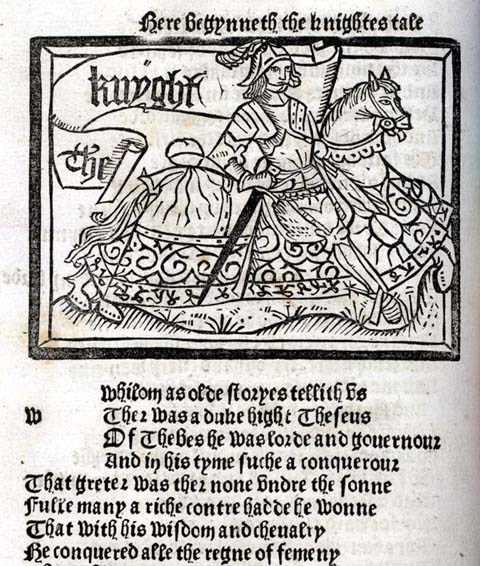 'the knight' and beginning of his tale (folio c4v)
Universally celebrated for its dramatic qualities and inimitable humour, The Canterbury Tales has always been one of the most loved works of the English literary heritage. It centres around a diverse group of pilgrims making the journey to the shrine of Saint Thomas à Becket at Canterbury. Before they set off, they assemble by chance at the Tabard Inn in Southwark; over supper, the inn's genial host, Harry Bailly, proposes that they hold a story telling competition to pass the time en route: each pilgrim is to tell two tales on the way, and a further two tales on the return journey, the best story winning its teller a free supper. In having every character relate stories in this way, Chaucer provides the perfect dramatic framework for a series of narratives, told in a wide variety of styles and genres. This structure was extraordinarily original and innovative for its time.
Chaucer's pilgrims are drawn from a wide range of social levels, ages and occupations, forming a vivid microcosm of fourteenth century society. A pilgrimage would have been the only occasion when such a varied group might have come together. Although ostensibly a devotional exercise, undertaking a pilgrimage was also a popular way of taking a holiday for all classes at that time. Groups of pilgrims were often accompanied by hired minstrels, so it is not hard to envisage The Canterbury Tales as actuality.