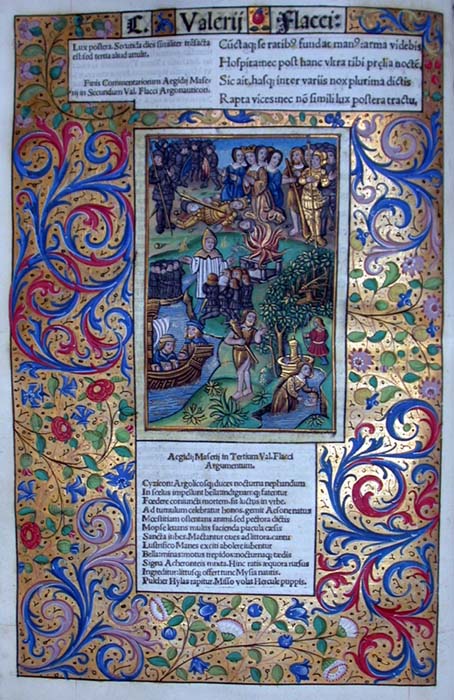 folio e2v: beginning of book 3
The Argonautica is an epic Latin poem that recounts the adventures of Jason and his fifty heroic companions in their ship, the Argo, in a quest to retrieve the Golden Fleece from Colchis. In return for delivery of the Golden Fleece, Jason's uncle Pelias agreed to surrender his kingship of Iolcis in Thessaly to Jason, who was the rightful heir to the throne. Pelias had usurped Jason's father, Aeson, but - of course - set what he thought was an impossible task, the Golden Fleece being guarded in the distant grove of Ares by a sleepless dragon.
Originally written in the latter part of 1 AD, very little is known about the author of this work, Gaius Valerius Flaccus. His only known work, the Argonautica is Virgilian in style. In his prologue, Valerius invokes Vespasian, and the poem was in part intended to celebrate his achievements in establishing Roman rule in Britain. Amongst other contemporary events alluded to is the eruption of Vesuvius in AD 79. Otherwise, Valerius imitates and partly translates from a work produced by Apollonius of Rhodes; written in around 200 BC, this poem survived only in fragments. Valerius' work is also incomplete: inconsistencies in the plot suggest that the poem was unrevised, while there are many passages where it is necessary to supply a line to complete the sense. However, the story is considerably augmented from Apollonius' earlier version, and Mozley praises Valerius' real gift for descriptive writing and picturesque expression. Furthermore, Valerius makes the hero, Jason, a real leader of men, rather than the colourless character of the earlier work.