Alasdair Gray was born in the Riddrie, Glasgow, in 1934. From an early age he showed a flair and interest in both writing and art, at the age of eleven winning a BBC competition and reading some of his verses on Scottish radio children's hour. In 1948, Gray was the editor of the school magazine at Whitehill primary school in Glasgow, to which he also contributed pictures and stories.

In 1952 Gray began his degree at Glasgow School of Art, where he was a student until 1957. After this, he made a living in numerous ways - teaching, painting, being an "artist recorder" at the People's Palace museum in Glasgow, and also undertaking a post at the University of Glasgow as a writer in residence. Thirty years later Gray has returned to the University and is presently one third of the chair of creative writing, alongside James Kelman and Tom Leonard. During this time Gray wrote numerous works, such as The Fall of Kelvin Walker, which was broadcast by the BBC in 1968, and McGrotty and Ludmilla, a play written for BBC radio. However, it was the publication of Gray's first novel Lanark in 1981 that brought Gray and his work to the public's attention.

Lanark was immediately greeted with critical acclaim, being heralded as a ground breaking work in Scottish literature. The novel marked the beginning of a renaissance in Scottish fiction, from which new styles of writing developed and grew - influencing writers such as James Kelman and Irvine Welsh.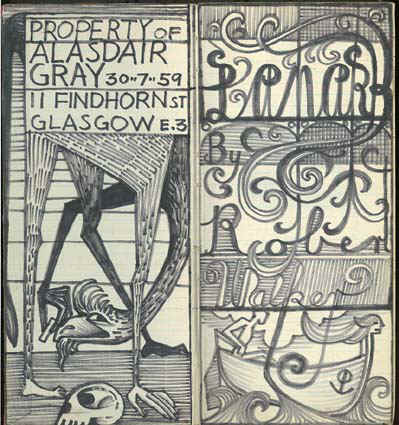 Illustrations from the front of a notebook. MS Gen 1595/1/1