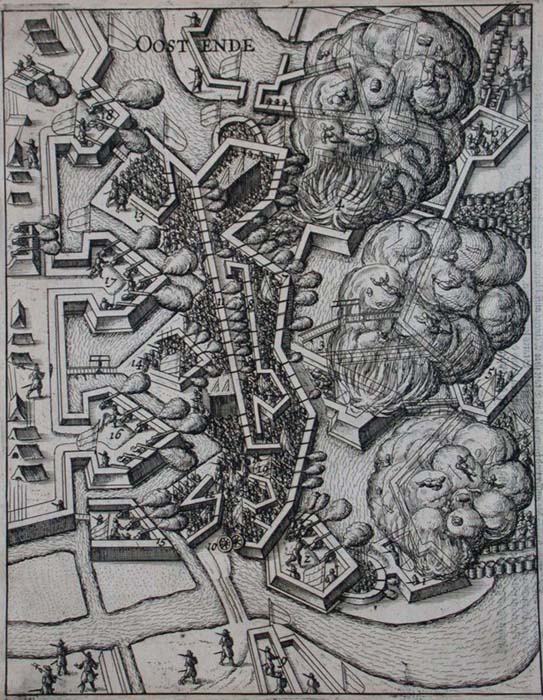 detail of illustration from part 3 (repetition of title-page woodcut), turned
The Eighty Years' War (1568-1648) was the war of the Netherlands independence from Spain. Spanish rule had been imposed on the Netherlands in 1519 when Charles V was crowned Holy Roman emperor and king of Spain. Discontent at this rule lead to a revolution in 1567, resulting in the separation of the northern and southern Netherlands. While the south remained Spanish, the north formed the United Provinces of the Netherlands (the Dutch Republic). At war, the United Provinces met with early success in securing Holland and Zeeland, but the union was weakened in 1579 by the defection of the Catholic Walloon provinces. Under the command of Alessandro Farnese, the Spanish had reconquered the southern part of the Netherlands by 1588. In 1598 Philip II granted the sovereignty of the Netherlands to his daughter Isabella and her husband, Archduke Albert of Austria. They continued the war against the northern provinces with the aim of ultimately uniting the Netherlands.
Ostend was fortified in 1583 and by the end of the sixteenth century was the only possession of the Republic in Flanders. From this strategically important position, the Dutch could inflict much damage on the surrounding Spanish territory. Even more crucially, control of Ostend meant control of the coast. Therefore, in 1601, Albert decided to besiege the town, stating that he would spend eighteen years doing so if need be. The siege began on 5 July 1601 and became infamous for the heroism, bloodshed and sheer endurance of both sides. As Simoni says, 'among the many battles, sieges, naval encounters and all manner of other military engagements of the Eighty Years' War, none was, and perhaps is, more famous than the long drawn-out siege of Ostend in which the Spaniards assailed the unassailable and the Dutch defended the indefensible'.