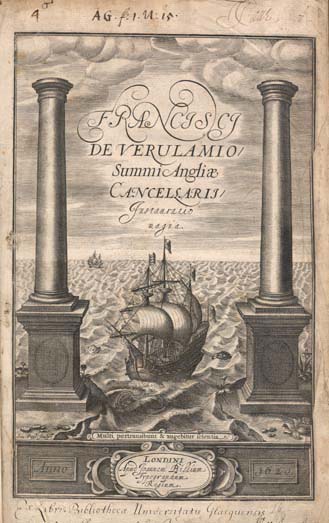 title page of Francis Bacon's 1620 "Instauratio magna". This work challenged the Aristotelian method of learning through deductive reasoning and advocated a wholesale reorganisation of the sciences. Harvey's "De motu cordis" was considered very much in keeping with this new approach to natural philosophy. The title page of the "Instauratio" seems emblematic of the proposed journey into new territory, picturing a ship passing through the pillars of Hercules out into the "new world". (Sp Coll Bm1-e.15)

Downgrading the role of the heart from a vital organ directly involved in personality, psyche and spirituality to a mere pump had many implications. The investigation into the role of the heart within the body took place during a period where significant political and constitutional debates were taking place. The de-mystification of the heart re-enforced challenges to other received "truths" - such as Charles I's divine right to rule England. Furthermore, Harvey provided ammunition to the new breed of philosophers rejecting Aristotelian ideas. René Descartes (1596-1650) quickly adopted and championed Harvey's idea of circulation seeing it as a neat way of removing the soul from the equation and so creating a purely mechanical explanation of the body.

Perhaps the most lasting influence, however, was brought about due to Harvey's scientific method. De motu cordis was often described as the very epitome of Baconian methodology. While commentators such as Walter Pagel have shown that Harvey was, in fact, very conservative, owing many of his circulatory ideas to traditional Aristotelian thought, De motu cordis quickly became understood as a rejection of traditional methods. It was viewed as challenging the traditional system of deductive reasoning via syllogisms, instead advocating experimentation and sensory experience. The empirical methodology observable in Harvey's work is now the acknowledged scientific method and has been universally adopted across all science and medicine.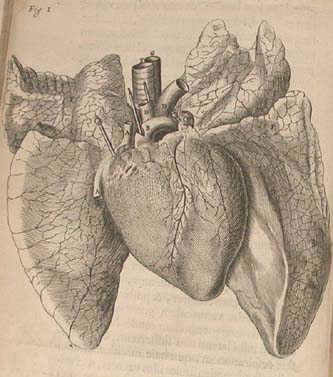 figure 1 from Descartes' "De homine", published posthumously in 1664, depicting the human heart. Descartes, who also rejected traditional Aristotelian ideas of natural philosophy, was instrumental in promoting Harvey's ideas on circulation. However, in contrast to Harvey, Descartes wrongly claimed that circulation was caused by heat-driven blood expansion rather than by the action of the heart. For Descartes, Harvey's explanation of the heart pumping the blood did not fit with his strictly dualistic dichotomy of soul (i.e. mind) and body. According to Descartes' ontology, if the heart was acting of its own free will, not directly controlled by human thought, it must have a conscious soul - for him, an absurd notion. (Sp Coll Ferguson An-c.37)