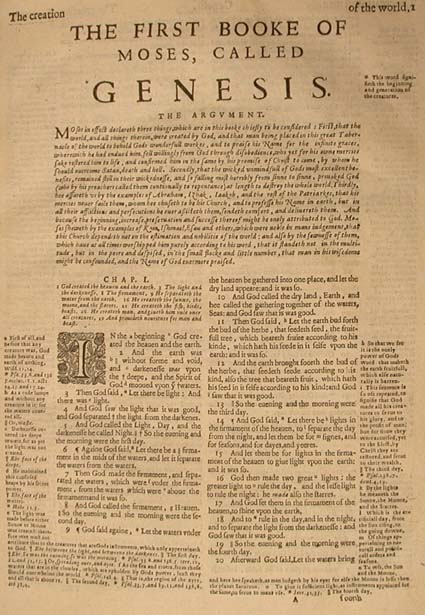 Opening of the Book of Genesis showing the use of marginal notes,
numbered verses and an 'argument' at the start of the book and chapter.
During the reign of the Catholic Mary Tudor (1553-8) many English Protestants were charged with heresy and executed. Amongst those sentenced to death by burning were individuals associated with Bible translation such as Thomas Cramner and John Rogers. Many fled from this persecution into exile and a significant number settled in Geneva. This was a centre for radical Protestantism and home to Calvin, one of the most important and influential theologians of this doctrine. The exiled English community in the city had as many as two hundred members at this time. With such a strong Protestant position, Geneva became a centre for Bible study and under the guidance of William Whittingham, a new translation of the Bible was undertaken.
The Geneva Bible that was produced used several devices to help the reader to study, understand and interpret the Bible. Translated from the original Hebrew and Greek texts, the script was divided into numbered verses for the first time. An 'argument' was also used before each book and chapter to help explain the meaning of the words. Also of importance were the marginal notes, thought to amount to 300,000 words or about a third of the complete length of the Bible. The translators used these scholarly annotations to inform the reader about the original script, to clarify ambiguous meanings and for cross-referencing.
However, King James and the political and religious authorities of the seventeenth century were suspicious of these marginal annotations, believing that they encouraged sedition. Indeed, James claimed that some notes were 'very partial, untrue, seditious, and savouring too much of dangerous and traitorous conceits.' His attitude is perhaps unsurprising when notes such as Exodus 1:19 claimed that a disobedient act against a king was lawful. This passage told of how the Egyptian King commanded the Hebrew midwives to kill any male children that were born to the Israelites. The midwives, fearing God, defied the king and saved the male children. When called before the king they then lied about what they had done. In response to this passage the marginal note stated that 'Their disobedience herein was lawfull, but their dissembling evil.' This note which justified the defiance of a monarch's command, would clearly have been objectionable to a king who believed in absolute royal authority.