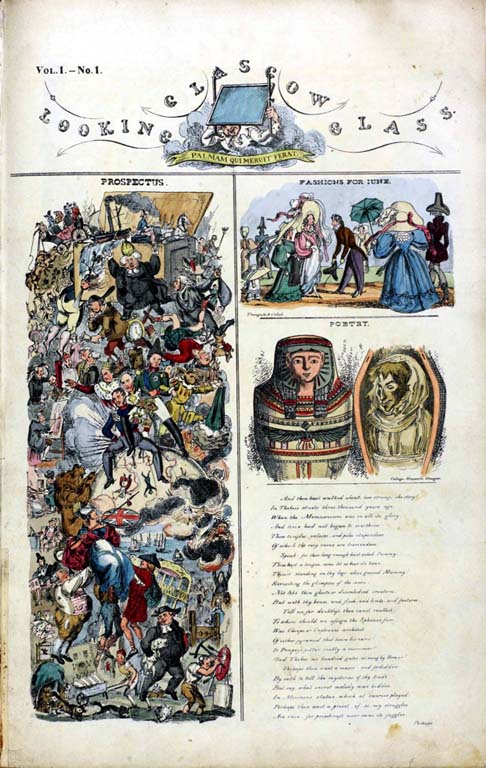 First page of Vol. 1., No. 1: Glasgow Looking Glass
June 11th, 1825

The first issue of the magazine appeared on 11 June, 1825. Produced fortnightly, it was printed by John Watson, one of Glasgow's early lithographic printers. After five issues, its name changed to the Northern Looking Glass, to reflect a more national coverage of events in Scotland. The final issue of this series appeared on 3 April, 1826. A further two issues of a 'new series' were produced by Richard Griffin and Co., but publication ceased altogether in June 1826.
The magazine is an early example of topical graphic journalism, a genre that became increasingly popular throughout the nineteenth century. While many of these satirical publications were short lived, several - such as Punch - became national institutions. Despite its name change, the content of our journal focuses predominantly on the eccentricities of Glasgow. In it, William Heath takes an irreverent view of the leading concerns and news of the time. As well as satirising political issues, he pokes fun at all levels of society, including the prevailing fashions and popular pursuits of the day. All in all, it provides us with a fascinating and entertaining - if somewhat skewed - view of Glaswegian life in the 1820s.
The 'prospectus' on the first page of the first issue encompasses its wide range of targets. The confused medley of figures includes the legs and posterior of George IV (projecting from behind the chest at the top), and the aristocratic sovereigns of Europe (the King of Prussia sits upon shackles, with the Emperor of Austria looking over his shoulder; besides him is Charles X of France in coronation robes; Alexander looks to the right, his arm linked with that of the King of Spain, who is depicted with the head of a mule), with Britannia beneath threatening them with her spear; she, in turn, is held up by a fat John Bull, a ragged Irish peasant and a Scot in Highland dress. Cats escape from a bag at the base.
Also illustrated on this page are promenaders in the Trongate showing off the latest fashions for June. The absurdities of the contemporary style are mocked in the exaggerated tailoring of the clothes, with elaborate frills and bows and impractically over-sized hats. Below this is shown an Egyptian sarcophagus from the Hunterian Museum, with a depiction of the mummy it contained, unbound to reveal a leering head. It is accompanied by a thirteen verse ode that fancifully imagines what secrets the mummy could relate if only it could talk. This is the Lady Shep-en-hor, still on display in the museum today.