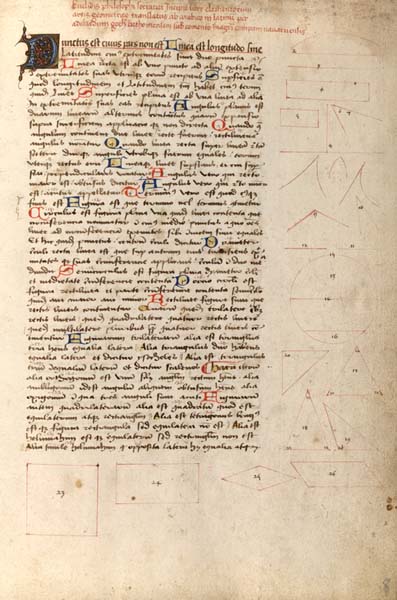 folio 8r: beginning of Euclid's elements
The main item in the manuscript (folios 8-172v) is a copy of Euclid's Elements, translated out of Arabic into Latin by the English scholastic philosopher Adelard of Bath. Its colophon states that it was finished being written out on 4 December 1480. This manuscript copy therefore predates the first printed edition, produced in Venice by Erhard Ratdolt in 1482, by just two years.

The oldest textbook on geometry still in use today, the Greek mathematician Euclid originally compiled this work in c.300 BC. A brilliant refinement of earlier mathematical knowledge, the Elements has retained its importance since antiquity. Its success can be attributed to its simple structure where each theorem follows logically from its predecessor. Pythagoras' theorem, one of the most famous geometric proofs, is in fact due to Euclid: it is stated as proposition 47 in Book I.

Euclid was studied as part of the arts degree in the medieval curriculum. The course consisted primarily of philosophy, particularly drawing upon the works of Aristotle; to begin, the students would study logic and rhetoric before progressing to mathematics, arithmetic and geometry, the physical sciences such as astronomy and optics, and ethics. Euclid was the fundamental text in the study of geometry, although only the first six books were usually required.

Although books were the basis for teaching, these were expensive and sometimes to difficult to obtain; medieval text books, therefore, tended to be owned by the masters. Teaching centred upon the public dictation of texts in lectures, with commentary by the master and debate by the students upon the matters raised.