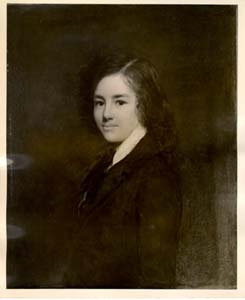 portrait of Whistler at age 14
oil painting by Sir William Boxall,1849
(image by permission of Hunterian Art Gallery: GLAHA 43500)

This same letter also refers to a portrait of James being 'nearly finished'. This portrait had been commissioned by George, and James comments that 'I am quite sure you will be better pleased with it than any that has yet been taken'. He describes how he, Deborah and Seymour went to see the painting, and how Seymour 'was very much pleased .. it is very like'. It was painted by William Boxall, a prominent member of the Royal Academy and popular portraitist. James deems Boxall to be 'a beautiful Colourist' and 'one of the first artists'. Boxall was evidently charmed by James; he took him to Hampton Court to see Raphael's cartoons and gave him a book about Italian renaissance artists.

A few months after this letter was written, George Washington Whistler died in St Petersburg. Having suffered from ill health throughout his stay in Russia, he finally succumbed to cholera on 9 April. A sad letter from Willie to James in early May notes that 'the last words dear Father said to me were, Good bye, be a good boy' (MS Whistler W978). Soon after, Willie and Anna joined James in London. During this time they attended the opening of the RA exhibition at which Boxall's portrait of James was displayed. On 29 July, the family embarked on their return voyage to America. James was then fifteen.