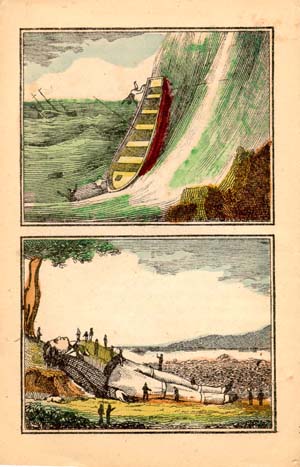 Also from (Sp Coll Bh13-c.28), Gulliver is ship wrecked off Lilliput before being discovered by the locals.

Gulliver's Travels comprises four different books, each detailing accounts from a different voyage undertaken by the putative author, Lemuel Gulliver. Published anonymously by Swift, it was ostensibly just another travelogue, describing the new territories emerging as a result of progress made in technology and commerce. Swift helps establish this ruse by describing the author as 'Lemuel Gulliver, first a Surgeon, and then a Captain of many ships'. He provides a fictional biography of Gulliver in the prefatory dedication and provides maps of the territories discussed.

It is only when Gulliver is ship-wrecked and awakens on a beach with 'arms and legs strongly fastened on each side to the ground', captured by creatures 'not six inches high' (p.8) that the reader begins to question the veracity of the account. This is, of course, a description of Gulliver's encounter with the Lilliputians, a race of people no larger than his middle finger. Following assurances to the little people of his good intentions, Gulliver soon becomes a favourite. At their request, he helps the Lilliputians vanquish their nearby rivals, the Blefescudans, by wading across the sea to steal the enemy fleet. Despite this helpful act, his subsequent refusal to force the Blefescudans into Lilliputian subservience enrages his hosts who sentence him to be blinded as punishment. Fortunately, Gulliver makes good his escape when a correctly proportioned rowing boat washes up on the Lilliputian shoreline.