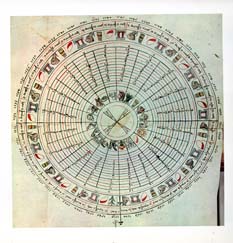 Recto of insert between folio 177 and 178
The Calendar comprises two separate astronomical diagrams describing the traditional Mexican calendrical system. These diagrams take the form of two calendar wheels that are found between folios 177 and 178 of the manuscript. The first, designed by Francisco de las Navas, a Franciscan monk correlates the twenty signs of the tonalamatl, at the centre, with the 52 years of the xiuhmolpilli, at the circumference, showing how the four special signs combine with thirteen special numbers to produce 52 year names. These are further correlated with the Christian calendar, from 1 Reed (1519) when Cortés arrived to 13 Rabbit (1570). The second calendar wheel was designed by an Indian governor of Tlaxcala, Antonio de Guevara. It shows, 18 months of the Mexican year and the five days without feasts of the 365 day year; the sign for each feast, an explanation of the sign and the name and the correlation with the months of the Christian calendar. A note explains how each month is divided into a 20-day period named after the moon, meztli, which is depicted in the centre of the wheel. Among the many calendar wheels included in histories of the Spanish colonial period, these two wheels have the acknowledged distinction of being the earliest.

Although Camargo is very critical of the acts of cultural and historical destruction perpetrated by the Spanish, the overall tone of the Historia is far more ambivalent. The shared history of the Tlaxcaltecas and Spanish and the unique relationship they maintain is suggested quite deliberately throughout. The Historia was compiled as a gift for Philip II and these references were almost certainly an attempt to curry favour with the Crown and establish privileges for the Tlaxcaltecas. Camargo was interpreter for a Tlaxcaltecan delegation of Indians including Antonio de Guevara who travelled to Spain in 1584. It was in Madrid, the next year, that the copying and binding of the Historia was finally completed. The purpose of this visit was to secure additional privileges for the Tlaxcaltecan court; the adulatory nature of the Historia may have assisted the delegation, for the same year Royal cedulas were issued granting a series of new exemptions and immunities to Tlaxcala. However, the benefits - irregardless of the manuscript's significance in their being granted - were short-lived. Subsequent years saw the Spanish authorities pursue a rigorous programme imposing stronger Crown control over New World territories in order to ensure maximum profit: this included the reversal of Tlaxcala's exemptions. As Eleanor Wake notes, very quickly, "Tlaxcala became but another source of tributary income".