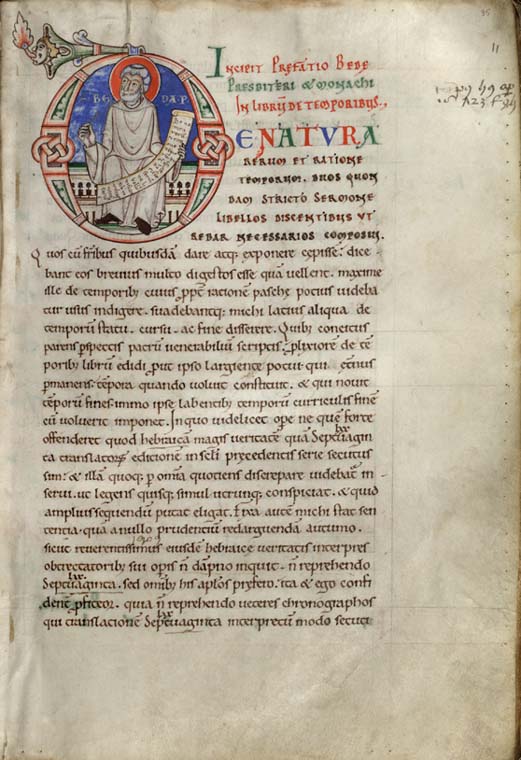 folio 35r: opening of On the reckoning of time
The text is introduced by an initial 'd' in red, green, blue, yellow and purple. It contains a seated representation of the author, identified by the inscription 'S. BEDA. P[resbiter]' . The opening words of the preface De natura rerum et ratione temporum... appear on the scroll he holds. The codex form had replaced the scroll some centuries before Bede was writing, but here the scroll has been used to confer an authoritative sense of antiquity and to provide a larger space for the words than an open book would have done

Starting with the smallest units of time, the text describes days, weeks and months before proceeding on to lunar movements and the seasons; solar movements and years are then treated. The different lengths of days and nights and the variation of shadow lengths cast on the earth's surface at different times during the year are explained. Bede simply states that the reason for the unequal length of days is due to the globular shape of the earth, thus explaining the three-dimensional nature of the earth and refuting the notion that early medieval people believed that the earth was flat.

The work moves on to the larger units of time, the Six Ages of the world. It ends with a discussion of eternity (the greatest unit of time) which man meets in the Eighth Age. The work thus finishes in sublime devotion; of course, for Bede, computation was a necessary elementary discipline leading to the greater understanding of the scriptures.