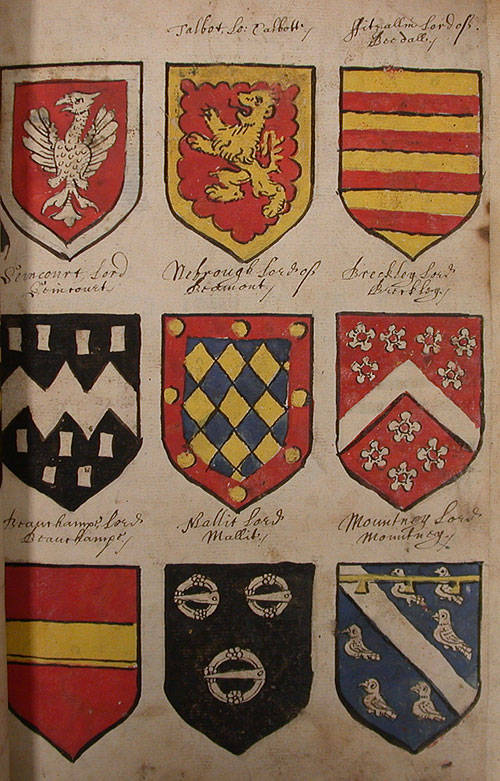 Shields bearing various charges and ordinaries. The shield at bottom right bears the three-pointed 'Label' across the top, used to identify an eldest son.
The birds on this shield are known as martlets. They occur frequently as charges
and are always depicted without feet.
Coats of arms developed as a means of identification, it being crucial to distinguish between friends and enemies in battle. They also came to serve as a means of marking territory or property. Evidently, to avoid confusion, it was important that each person's 'arms' were unique. A system and language developed which standardised the colours and designs used and the means of describing them, known as 'blazoning'. In effect, this means that a coat of arms can be correctly drawn and coloured based on a written or verbal description alone. Some of the terms used are corruptions of early medieval French and descriptions of even very simple shields can appear archaic and difficult to make sense of, for example 'Azure a bend argent'. However, they can be broken down relatively easily and interpreted.


The most commonly used colours in coats of arms are Azure (blue), Gules (red), Sable (black) and, to a lesser extent, Vert (green). Yellow and white are ubiquitous but actually represent two metals: Or (gold) and Argent (silver). For reasons of contrast and visibility, a basic principle developed that a metal could be placed on a colour but not directly onto another metal; for example, a silver cross on a red shield stands out much more clearly than a silver cross on a gold shield. The same principle applies to placing colours. Together with 'furs', such as Ermine (white with black tufts), these colours and metals are known as tinctures. Objects and figures (a lion, for example) placed on a shield are known as charges. The earliest forms of these, simple shapes such as chevrons and diagonal bands (called 'bends'), are known as ordinaries.


In heraldic descriptions the colour of the shield is given first, followed by the name of the principal ordinary, or charge, and its colour. Descriptions of more complex designs will go on to include the other elements, such as lesser charges and their positions on the shield (dexter for right, sinister for left). 'Azure a bend argent' describes a blue shield with a silver diagonal band running top right to bottom left. (Right and left are given from the point of view of the person who would carry the shield, rather than the view from the front.)


Arms belong to individuals not families, though arms can be inherited (and by a daughter if her father has no sons). Children must 'difference' their arms to distinguish them from those of a living father, although the eldest son can remove his identifier once his father dies. Therefore, an individual's coat of arms may not remain the same throughout their lives.