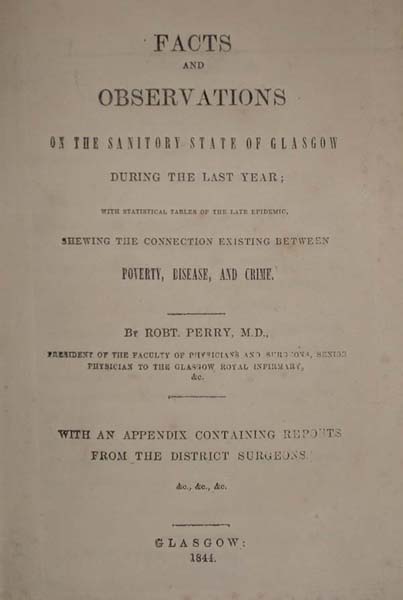 Title page of Robert Perry's 'Facts and Observations
on the Sanitory State of Glasgow' (1844)
Robert Perry (1783-1848) studied at Glasgow University and graduated MD [Doctor of Medicine] in 1808. He was associated with the Glasgow Royal Infirmary for many years, initially as a surgeon. The title page of his 1844 publication describes Perry as Senior Physician to the Infirmary and also as President of the Faculty of Physicians and Surgeons, a position he held between 1843 and 1845.
Perry went on to become Vice-President of the Western Medical Club. He had also been an original member of the Glasgow Medical Society, founded in 1814.

He was very interested in the causes and effects of epidemics, a variety of which had affected Glasgow since the beginning of the nineteenth century. Facts and Observations was not Perry's first public statement. He had previously submitted a series of propositions on typhus to the Glasgow Medical Society. These were significant in drawing distinctions between typhus and typhoid fever. (His son also became a physician and published his own observations on typhus in the 1860s.)

Regarding the 1843 fever epidemic, Perry addressed his report directly to the Lord Provost of Glasgow:


Robert Perry (1783-1848)
Portrait by Sir Daniel Macnee
(Courtesy of The Royal College
of Physicians and Surgeons of Glasgow)
'I have been influenced.by a desire to express the high sense I entertain, in common with your fellow-citizens, of your active benevolence, and of the deep and sincere interest you take in every measure for the alleviation of disease, and the relief of poverty.
And.by the knowledge that when you look at the appalling picture, you will employ all your energies, and the influence of your exalted station, in adopting such measures as will be best calculated to insure attention to the wants and circumstances of the poor.'