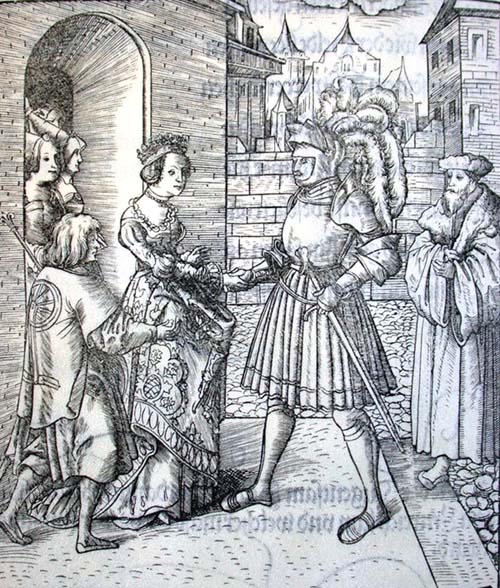 Illustration from chapter 98: Teuerdank is received by Ernreich
Maximilian I (1459-1519) -

archduke of Austria, German king, and Holy Roman emperor (1493-1519) - was one of the most

important patrons of the arts in the sixteenth century. Politically ambitious and a talented militarist, he successfully augmented his Habsburg family power by force and by strategy.

A product of a transitional age,

he can also be described as the first humanist emperor of the Renaissance, with an enthusiasm for new scientific ideas as well as the arts.

Many of Maximilian's artistic endeavours were fuelled by his desire to achieve posthumous fame. He made his court a major centre for the arts; in a bid to become immortal, he supported music, planned grand architectural monuments, collected an important library and encouraged printing. He was also fascinated by his family history, commissioning genealogical studies to provide him with eminent ancestors including Caesar, Charlemagne and King Arthur.

As well as commissioning works of literature, Maximilian himself was a prolific author. Indeed, the Teuerdank is traditionally ascribed to him. While Maximilan will have undoubtedly planned the work in detail, it should more correctly be attributed to Melchior Pfintzing, his chaplain, who worked extensively on the text in accordance with the Emperor's instructions. Some commentators also credit Maximilian's secretary, Marx Treitzsauerwein, with some responsibility for the writing. Certainly, the whole concept took a long time to complete: originally planned in 1505, the poem did not near completion until 1512, and took a further five years to be produced.