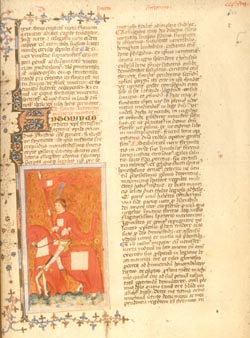 Fol. 368r of Legenda Aurea
The additional legends dealing with Flemish saints, such as Bavo, Livinius, Walburga, Bonifatius, Eligius and Donatianus are almost all illustrated, and in the last mentioned we encounter the earliest depiction of the saint holding his distinctive attribute - a wheel with candles. Donatianus, the patron saint of Bruges, also points to the likely origin of this manuscript, which bears marked stylistic similarities to other Bruges productions.
The codex was probably a foreign commission. Several of the additional lives have associations with Italy, and in particular the last miniature, an equestrian portrait of saint Antoninus, (368r) the martyr of the Theban legion is larger than all the others. Antoninus, the patron saint of Piacenza and of several churches in that diocese also bears the arms of the town.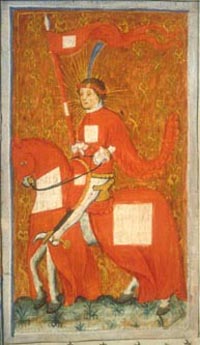 Detail from fol. 368r of Legenda Aurea showing saint Antoninus