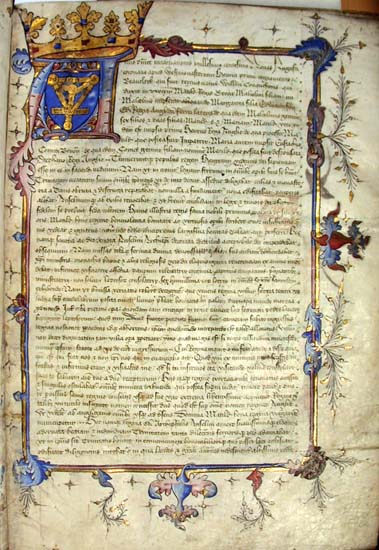 Folio 1r: opening page
The Augustinian priory of the Holy Trinity in Aldgate was founded in 1108 by Queen Matilda, Consort of Henry I. An important monastic house from its inception, it enjoyed the support of many of the citizens of London as well as royal patronage. Although it is said that the first Prior spent so lavishly on buildings, books, ornaments and vestments that the monastery was left short of food, he managed to double the Priory's income. After Matilda's death, Henry I continued to favour the house, and its financial position continued to improve throughout the twelfth century, helped by large grants of land such as that of the soke of the English Cnihtengild in 1125. During its heyday, in fact, the Holy Trinity had interests in some 87 London parishes, gaining much of its income from owning properties, selling land in which fixed annual rents were retained, and collecting quit rents. Much of this business activity is detailed in the set of administrative documents collected together in this manuscript.

The documents found in the manuscript are loosely referred to as 'charters'. These encompass a wide range of non-literary texts, such as diplomas (grants of land), leases, wills, writs, administrative letters, rent lists, summaries of law suits and other miscellaneous documents. In their original form, they would usually have been written out on a single leaf of parchment. This would physically act as legal proof of any ownership/agreement made and be carefully preserved by the beneficiary. The earliest charters in England date from late 670s, although less than less than 2,000 survive from the Anglo-Saxon period; however, there was a huge increase in their production in the thirteenth and fourteenth centuries when they began to be used by laymen to convey property to one another. This increase may be said to reflect the growth of a literate mentality throughout the medieval period. The need to retrieve and preserve such documents also became paramount, and collections of copies of important charters in cartularies - such as this volume - were firmly established by the thirteenth century.