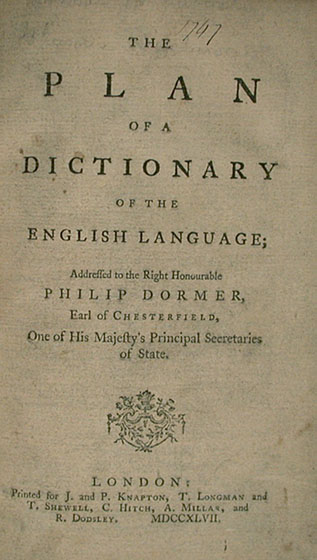 Title Page from 'Plan of a Dictionary of the English Language' (Sp Coll Mu51-c.25)
For nearly a century before Johnson embarked upon his Dictionary there had been a growing feeling within the upper echelons of society that there should be some sort of standardisation within the English language. As far back as 1664, the Royal Society set up a committee "for improving the English tongue" but it was the successful completion of the Dictionaire de l'Académie Française thirty years later, that made the English truly realise the need for a greater study of their own language. From this point onwards many literary figures, including Defoe and Swift, proposed their own ideas and schemes for correcting the English Language but all of these failed in one way or another; it was not until 1747, when Johnson published his Plan of a Dictionary of the English Language, that the problem finally found someone who had the tenacity to embark upon a project comparable to that of the French Academy.
It is interesting to note that the aims of the booksellers and the aims of the author were very different when embarking upon a project as lengthy and perilous as a dictionary. The leading London booksellers were always open to investment in works that would be popular with the general public, especially dictionaries and encyclopaedias. The reasons for this were twofold: firstly, in the publishing of such a large work it was usually impractical for one booksellers to publish alone, and so they would often form temporary partnerships with each other, thereby sharing the costs and the risks alike; secondly, the copyright of such items usually belonged to the publisher, therefore once the initial outlay had been made to the compiler and the work was finished, booksellers could make massive profits as they no longer had to pay a percentage to the author.