the crucifixion

The owner's name is found again at the end of this prayer. The second miniature follows, a depiction of the Crucifixion, with Mary and John standing at the foot of the cross. This is followed by a prayer to the Holy Cross of Christ, for preservation against all evil and the snare of the devil, and then by a writing concerning headache, and a prayer for travellers. Both items are written in a reticulated diaper pattern in black, with conventionalized blue and red flowers in the intervening spaces.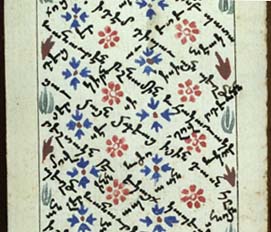 prayer for travellers

The provenance of the scroll is uncertain, but it is likely to have been acquired by Glasgow University through the bequest of Dr William Hunter (1718-83), the distinguished eighteenth century anatomist, obstetrician, Physician Extraordinary to Queen Charlotte, and avid collector of coins, medals, paintings, shells, minerals, books and manuscripts. As well as being mentioned in the catalogue of the Hunterian Library (which was published in 1908, 125 years after Hunter's death and 101 years after the contents had been removed from London to Glasgow), we learn in an annotated catalogue, preserved at the British Library, that at the sale of the library of Thomas Martin of Palgrave on 28th April 1773, Hunter acquired three manuscripts. Two of these were mediaeval, but the third, lot 127 was 'an Armenian roll' for which he paid £1-11-6.