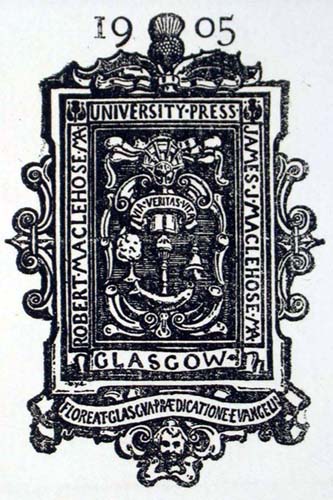 MacLehose 636: colophon device
In 1904 the MacLehose printing works moved from its cramped premises in the city centre to a more spacious site in Anniesland (in the west of Glasgow). Here, entirely new printing, electrotyping and bookbinding works were erected. At this time, the firm was converted into a private limited company known as Robert MacLehose and Company, Limited: this was controlled and largely owned by the MacLehose family. When this company was formed, Robert and James J. MacLehose (junior) were its Managing Directors. Robert died in 1907, although his "fine taste, his literary powers, and his eager interest in business left a permanent mark on the firm's work". James lived until 1943.
In 1919, James decided to devote himself entirely to the printing side of the firm and retired from being a partner in the publishing and bookselling side; James MacLehose and Sons subsequently became, successively, MacLehose, Jackson & Co. and Jackson, Wylie & Co.: thus the MacLehose family were no longer connected with publishing and bookselling in Glasgow. But the printing side of the firm continued to expand successfully, merging with several other companies over the years. Ownership passed to the MacLehose group in 1970. While output continued to include University publications, the firm's remit obviously also extended to a far wider commerical base, beyond the University.
The MacLehose group was liquidated in 1982, ironically as a result of over expansion. The previous year, the firm had taken over another printing firm, Morrison and Gibb. Prior to that, the Edinburgh University Printer, Clark Constable, had been incorporated into the company. As the then managing director, Matt McLure explained, this reorganised company was successful to the extent that "Orders were coming at an alarming rate, which meant that increased financing was required" (Glasgow Herald, 6 May, 1982). Although additional finance was sought, it proved impossible to obtain further backing, and the receivers were called in. For a time, it was hoped that the company would be saved; one senior executive is quoted as saying "There is a positive feeling in the air. Our orders are going up month by month. It is bloody ridiculous - what do we have to do to survive?" (Scotsman, 7 May, 1982). Unfortunately, the firm could not be saved.
The MacLehose firm, in slightly different manifestations, had been the official printers to the University for over one hundred years. There has been no Glasgow University Press since their demise.