| | |
| --- | --- |
| | Please note that these pages are from our old (pre-2010) website; the presentation of these pages may now appear outdated and may not always comply with current accessibility guidelines. |
British Bookbindings: 16th - 19th Century
An exhibition originally held in the Hunterian Library, University of Glasgow in December 1970. Revised for Special Collections web pages in December 1999 by Julie Gardham.
Click on thumbnails to view images in more detail
---
Contents
| | | |
| --- | --- | --- |
| Sixteenth Century Bindings | | Seventeenth Century Bindings |
| | | |
| Eighteenth Century Bindings | | Nineteenth Century Bindings |
---
Anonymous Sixteenth Century Bindings

CAESAR, C. Julius
Commentarium ... de bello Galico libri VIII
Basle: 1521 [BD2-h.2]
This acorn panel may have been originally Netherlandish in design but it certainly came later to England. It is one of eleven such panels used by English binders in the early sixteenth century. The design may have been derived from German playing cards, one of whose suits was acorns.

CALVIN, John
The institution of Christian religion
London: 1587 [BD1-d.3]
The cornucopia corners were copied from a French type which was in use, probably at Paris, about 1570-80. There were at least two very similar English variants. The initials IK appear on the central oval and there is a semis of 'tear-drops'.
---
Garrett Godfrey

GESTA Romanorum
Paris: 1515 [Al-f.15]
This binding of blind-stamped calf over boards has a design made up of two rolls, one of a griffin, wivern and lion with the initials GG, and the other a diaper of quatrefoils in lozenges. It was executed in Cambridge between 1515 and 1530 by Garrett Godfrey, a Dutchman, who was at work in Cambridge for about forty years and died there in 1539.
---
King Edward and Queen Mary Binder
CARION, John
The thre bokes of Cronicles
London: 1550 [BD1-d.16]
This binding is the work of the King Edward and Queen Mary binder. G.D. Hobson thought there were two binderies, King Edward's and Queen Mary's, but Mr. Nixon has shown that there could only have been one on account of the combination of tools found. The owner of the initials ILLA on the covers has not been identified.


---
The Lily Binder
HIERONYMUS de Villa Vitis
Panis quotidianus, de sanctis
Hagenau:1509 [BD7-e.26]
From the tools and other indications this binding appears to be the work of the man whom Oldham calls the Lily binder, but according to Oldham he was at work only from 1481 to 1504. At any rate the binding appears to be contemporary with the book which bears an inscription stating that in the early sixteenth century it was the property of the monks of Newminster, a Cistercian abbey in Northumberland.

---
Gerard Pilgrim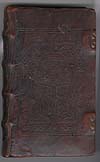 VERGILIUS, Poydorus
De rerum inuentoribus
Basle: 1536 [Ah-d.2]
The front cover is stamped with a Trinity pane and the back cover bears an Image of Pity pane. Both have the initials GP with a key and a pilgrim's staff. The two are clearly the work of the same designer and were probably engraved in England. They are attributed to Gerard Pilgrim, a Dutch binder, who worked in Oxford from at least 1524 and died in 1536.

---
John Reynes
CLEMENT
Opera
Basle: 1536 [SM 1933]
Oldham records 143 examples of this wide roll depicting a thistle, a bee, a bird, flowers and a hound, and the trademark of the London stationer, John Reynes. Reynes obtained letters of denization in 1510, worked in London, and died there in 1544. He was probably not a binder but head of a binding firm.

BIBLE. Latin.
Paris: 1510 [Da-i.35]
The front cover shows a curious armorial design known as the Arms of Christ, charged with the symbols of the Passion and supported by unicorns. The design was taken from a cut used by the Paris printer Thielman Kerver. The back cover has a panel in two sections, the upper showing the arms of Henry VIII supported by a dragon and a whippet, with the pomegranate of Katherine of Aragon below, and the lower shows the Tudor rose surrounded by a ribbon, supported by two angels. These two panels, which are always used together, are both signed with the initials of John Reynes, and there is reason to believe that they were not used before 1522.
PLINY
Epistolarum libri decem ...
Paris: 1518 [BE2-g.1]
The panel on the front cover shows St. George killing the dragon with Princess Cleodolinda in the background. On the border, at the top, is a view of the walls and towers of the city of Selene; below is a stag hunt with hunter and dog. On one side area lion and a wivern and on the other a boar hunt. The panel on the back cover shows the baptism of Christ. These two panels belonged to John Reynes and were always used together.
---
Nicholas Spierinck

REUCHILN, Johann
De arte cabalistica
Hagenau: 1517 [Ah-y.11]
A binding design of two blind rolls similar to those on the Gesta Romanorum. The animal roll includes the initials NS which have been identified as those of Nicholas Spierinck, a binder from Lille, who settled in Cambridge early in the sixteenth century and remained there until his death in 1545 but ceased to work as a binder about 1533. This binding was executed between 1517 and 1528.

---
Sixteenth Century Trade Bindings

HUNNIS, William
Seven sobs of a sorrowful soule
London: 1589 [BD1-l.40]
A sixteenth century English trade binding, gold-blocked. These gold-blocked panels were used during the reign of Queen Elizabeth I and most of the seventeenth century, usually on small religious works, such as this, which were produced cheaply but intended to look expensive.


CHURCH OF ENGLAND
The booke of common prayer
London: 1589 [Dv-f.22]
The covers are stamped with the date 1591 and the arms of Queen Elizabeth I. This is an example of the trade bindings of Bibles, prayer books, etc., which were sold ready bound by the London booksellers. These often included the royal arms - the equivalent of the blind-stamped panels of the royal arms used in Henry VIII's reign.
---
Edinburgh Bindings
GOMEZ, Antonio
Doctissimus ad leges Tauri commentarius
Antwerp: 1624 [Bh7-d.9]
GOWER, John
Vox clamantis etc
14th century MS [T.2.17]
The binding of the first of these books has an intaglio roll depicting a hunting scene, while the second has a roll of birds, foliage and flowers. Dr. Mitchell writes of them: "Rolls which, like these, bear designs intended to be seen from the side, are very uncommon ... [These two] are surely the work of one engraver, a man of great skill and taste. It is possible that both the engraver and the binder worked in Edinburgh." He thinks that the bindings were probably executed about 1625.
BOYD, Zachary
The last battell of the soule in death
Edinburgh: Andro Hart, 1629 [Bm9-l.27]
According to Dr. Mitchell, this binding is probably contemporary Edinburgh work executed soon after the publication of the book. It is the only known example of this style. The initials of the original owner, C.G., are stamped on the covers, but he has not been identified. This book was in Glasgow University Library in 1691.
---
Embroidered Bindings
During the Tudor and Stuart periods embroidered covers were very common, especially on devotional books. Most of them were made by professional embroiderers and set in place by bookbinders. The designs were taken from pattern books made especially for embroiderers. Canvas was used as a base material from the fourteenth century until the middle of the seventeenth century, but velvet was more common during the Tudor period and satin during the Stuart.
BIBLE
London: 1608 [Dp-i.2]
An all-over design of flowers and birds worked in coloured threads, with a background of silver metal thread, on canvas. Canvas covers were usually completely covered in embroidery since the material was not decorative in itself. The edges of the book are gauffered with an armorial design.
BIBLE
Psalms. The whole booke of Psalmes
London: 1632 [De-m.8]
White satin with raised embroidery in metal thread of gold, silver and various colours in a floral design. Tiny circles of metal are sewn on to make a kind of semis background. A wide red ribbon is fastened to the front cover and wraps around the book when not in use.
BIBLE
London: 1643 [Dk-i.17]
A charming design of flowers, snails and butterflies embroidered mainly in metallic thread on a base of white or cream satin.
BIBLE
London: 1645 [Dk-i.18]
A binding done in tapestry stitch on canvas, with the background in silver thread. The all-over design is of peonies and other flowers and butterflies.
BIBLE
London: 1646 [Dk-i.16]
Embroidered binding of white satin over canvas with a vine worked in coloured silks and silver thread in the centre of each cover, surrounded by an oval made with wire thread. Pieces of metal are used in the ovals at the corners; this was called "lizzarding".
BIBLE
London: 1649 [Du-g.19]
Green satin with raised embroidery in silver gilt thread in a fan pattern, with the initials MF on either side of the centrepiece. This volume also has metal clasps of an unusually elegant design and a fore-edge painting of flowers.
BIBLE
London: 1655 [Dk-i.15]
Pink satin with raised embroidery in white, blue and yellow. The book originally had four pink ribbon ties. Both the design and workmanship are rather crude, possibly the work of an amateur. There is a contemporary inscription: "Dorothy Doiley Her Booke" and it may be that Dorothy Doiley made the cover herself.
BIBLE
London: 1632 [Dk-i.19]
A binding covered in blue velvet with ornamental metal clasps and centre and corner pieces intended to protect the velvet. The designs on the corner pieces show allegorical female figures representing virtues, those on the clasps are of the four Evangelists; the centre piece on the front cover is engraved with a coat of arms and that on the back cover with a picture of Christ speaking to the Pharisees.
---
English Bindings: Anonymous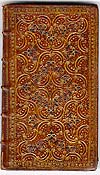 ALLESTREE, Richard
The government of the tongue
Oxford: 1675 [BD14-i.17]
YELVERTON, Sir Henry
A short discourse of the truth
London: 1662 [BD14-i.24]
Two contemporary bindings from shops which have not yet been identified. Both have the drawer handle and tulip tools which are typical of English bindings of the time. These elaborately tooled bindings usually appear on devotional works which were probably gifts for special occasions.
CROWNE, John
Calisto
London: 1675 [BD14-i.2]
This late seventeenth century London binding has the pansy tool (three in centre) and the "very curious nondescript large flower" (centre sides) mentioned by G.D. Hobson in English bindings in the library of JR. Abbey (no. 46).
---
Andro Hart

A parte of a register contayninge sundrie memorable matters
[Middelburg: 1593] [Bh5-g.14]
Andro Hart, an Edinburgh printer and bookseller, was also a bookbinder, and this is probably a specimen of his work. An ownership inscription on the flyeaf shows that it belonged to Walter Stirling in 1612 so it must have been bound before then. The design of hearts in the gauffering may be a punning reference to Andro Hart.


STRUTHER, William
Christian observations
Edinburgh: Heires of Andro Hart, 1629 [BD14-i.31]
This has the same centre stamp as A parte of a register. In view of this and the fact that they cover books printed by the Andro Hart press, it seems likely that they are from the same bindery. Andro Hart died in 1621 or 1622 but the business, presumably including the bindery, was carried on by his heirs.
---
IA: Oxford binding

SPELMAN, Sir Henry
A tract of the rights and respect due unto churches
London: 1616 [Ag-d.73]
Blind tooled binding with a roll of hearts and flowers incorporating the binder's initials IA. According to Oldham, this is an Oxford binding contemporary with the book.
---
Samuel Mearne Bindery
CHURCH OF ENGLAND
The book of common prayer
London: 1678 [Ds-f.3]
This binding in a cottage roof design, picked out with black paint, is identifiable by the tools used as almost certainly the work of the Samuel Mearne bindery. Mearne hed the office of Bookbinder to the King from the Restoration in 1660 until his death in 1683.
Cottage roof designs, so called from the slanting lines at top and bottom of the panel, are very characteristic of English binding in the last quarter of the seventeenth century and first quarter of the eighteenth century, but they continued in use until late in that century and they are not absolutely peculiar to England.
(Other examples of cottage roof design bindings are located at: Dx-a.14, Dv-h.14, Dw-i.8, SM 1951, Df-e.29, BD14-i.33, BD14-i.40).
---
Queens' Binder
ALLESTREE, Richard
The art of contentment
Oxford: 1677 [BD14-i.23]
Scala sancta
London: 1678 [BD14-i.19]
These two bindings are in the style which G.D. Hobson termed that of the "Queens' binder"; He gave it this name because both Catherine of Braganza and Mary of Modena owned bindings in this style which were thought to be the work of one man. Subsequent research has shown that these bindings came from at least four shops. The first of the bindings shown is by Queens' binder A, who is now tentatively identified with William Nott, and the second is by Queens' Binder B..
Royal inventory of pictures, statues, etc
MS. Early eighteenth century [U.3.11]
This elaborate but rather inexpertly executed binding is the work of another of the Queens' binders - just which one is uncertain. It was evidently not made for the manuscript it covers which is later in date.
---
Robert Sanders
CALVIN, John
The institution of Christian religion
London: 1634 [Mu42-a.11]
This volume bears an inscription stating that the book was bought by George Sinclair, 6th Earl of Caithness, from William Calderwood for £6 and bound for the Earl at Glasgow by Robert Sanders in 1660. It is interesting both as an example of seventeenth-century Glasgow binding and of the ordinary Scottish binding of the period. A copy of John Jonston's An history of the wonderful things of nature (1657), in the Ferguson collection (Ak-y.8), has an almost identical binding, also with the initials EGS on the spine, and this too must be the work of Robert Sanders for the Earl of Caithness. Sanders, who was also a bookseller and printer, was employed as a bookbinder by Glasgow University; in 1655 he was paid £317.5s.2d "for binding of umquhill Mr Patrik Maxuellis buikis."
---
for William III

BIBLE (Latin)
Hanau: 1603 [Ds-c.2]
This book was bound for William III and bears his cipher. In English bindings in the Library of J.R. Abbey (p84), G.D. Hobson describes another copy of this same edition of the Bible in a binding very similar to this except for the spine , and says: "This is the only known binding with the cipher of William III which bears the tool of the dove and olive branch." Since the present copy also bears the tool of the dove and olive branch it must be listed as a second example. Hobson suggests that the use of this tool shows that the binding is a little later than the Treaty of Ryswick which was concluded on 10th September, 1698.
---
Bible Trade Binding

BIBLE
Oxford: 1783 [Dw-d.13]
A binding made for the 'Bible Trade' in contemporary red morocco with a wide gilt border of urns and floral stems. In the centre is an onlay of green morocco gold-tooled with the sacred monogram, a cross, cherubs' heads, starts and flowers: this is surrounded by an outer onlay of blue morocco, also tooled with cherubs' heads.

---
Christopher Chapman
CICERO, Marcus Tullius
Epistolarum familiarum libri XVI
Venice: 1470 [Be.1.5]
APULEIUS, Madaurensis
Opera
Rome: 1469 [Be.1.14]
These books were bound by Christopher Chapman, fl.1704-56, bookbinder in Duck Lane, London, 1720-31, later in Paternoster Row. He was one of two binders (the other being Thomas Elliot) employed by Robert Harley, 1st Earl of Oxford, and his son Edward, the 2nd Earl, who were both very famous book collectors.
---
Chippendale Style
HOMER
The beauties of Homer
Oxford: 1775 [BD2-g.2]
BLANCHARD, W.I.
The complete instructor of short-hand
London: [1787] [BD14-i.10]
BIBLE
Edinburgh: 1787 [Dv-f.12]
A group of bindings in the Chippendale style. Like the Hollis and Hanway bindings, this illustrates a contemporary trend towards the use of decorations on bindings resembling those used in other forms of decorative art.
REDDIE, James
Disputatio juridica
Edinburgh: 1797 [Mu20-f.15]
A Scottish rococo binding with some historiated tools and some in the Chippendale style.
---
John Drury of Lincoln

A Collection of anthems. As they are now performed in the Cathedral in Lincoln
Lincoln: 1775
Additional anthems
Lincoln: 1790
Bond's anthems
Lincoln: 1794 [Dn-f.3]
This volume was evidently bound for use in the Cathedral as it has a red leather label on the front cover with the word Dean stamped in gold on it. The binding is almost certainly the work of John Drury of Lincoln who printed the latter two works and who was a bookbinder as well as a printer.
---
Edinburgh trade binding

HORACE
Opera
Edinburgh: 1731 [BD2-k.8]
An Edinburgh trade binding of rather unusual design. The central ornament is found on another book issued by the same publisher in 1730.



---
Thomas Elliot
DURAND, Guillaume
Rationale divinorum officiorum
Rome: 1473 [Bg.1.6]
NEWTON, Isaac
Philosophiae naturalis principis mathematica
Cambridge: 1713 [Cz.1.22]
Two bindings by Thomas Elliot, who, with Christopher Chapman, was responsible for most of the Harleian bindings. These two binders were once thought to have been partners but in fact they were rivals. Elliot had his bindery at Portugal Street, London, from 1718 to 1729; he also bound books for the Society of Antiquaries.

---
Foulis Press Bindery
SIMSON, Robert
Opera
Glasgow: Robert and Andrew Foulis, 1776 [BD12-c.22]
VIRGIL
Bucolica, Georgica et Aeneis
Glasgow: Robert and Andrew Foulis, 1758 [BD12-f.45]
These two books have the same roll on the covers and in view of the fact that they are both Foulis Press Books and that the Simson is a presentation copy from the editor, James Clow, who was professor of Philosophy in the University of Glasgow, there would seem to be a strong presumption that the bindings are the work of the Foulis Press.

---
Jonas Hanway

HANWAY, Jonas
An account of the Society for the encouragement of the British troops
London: 1760 [Bl9-g.13]
Jonas Hanway is usually remembered either as a philanthropist or as the first gentleman to carry an umbrella in London, but he was also a designer of bookbindings which are little known perhaps because they are comparatively rare. This volume in mottled calf has a red leather label on the back cover: "For the University of Glasgow" and on the front cover a large ornament of crossed sabres bearing the royal motto "Dieu et mon Droit" and a ribbon inscribed "In memory of Thonhausen, Quebec &c 1759". Copies in similar bindings were presented to the Universities of Oxford and Cambridge and to Sir George Pocock.
---
for Thomas Hollis (bound by Matthewman)

TOLAND, John
The life of John Milton
London: 1761 [Bm1-h.19]
NEVILLE, Henry
Plato redivivus
London: 1763 [Bl9-k.23]
These bindings were executed for Thomas Hollis, 1720-74, a lover of liberty, who spent much time and money on the propagation of his principles by gifts to libraries of books specially bound by one Matthewman and stamped with symbols appropriate to their contents. These emblematic tools were made for him by Thomas Pingo, the medallist, chief engraver to the Mint; Cipriani probably designed some of them.
---
for Thomas Hollis (bound by Richard Montagu)
FOUQUET, C.L.A.
Lettres
[Paris?]: 1759
Proceedings of the Committee appointed to manage the contributions ... for cloathing French prisoners of war
London: 1760 [Bh9-d.10]
The Committee, of which Hollis was a member, resolved that copies of their Proceedings should be deposited in the British Museum and in the several Universities of the British Empire. Presumably Hollis volunteered to take care of the binding of these copies for this binding has the same border as his own copy. The border also appears on a copy of Milton's Works (1753) presented by Hollis to the Academia della Crusca (The Book Collector, I, 3 pp. 183-4). These bindings are by Richard Montagu who had a great reputation in his time, but whose identifiable work is now extremely rare.

LYTTELTON, George
Dialogues of the Dead (2nd edition)
London: 1760 [BD14-i.6]
This binding has the same border and some of the same tools on the spine as the previous item, so presumably it is also by Richard Montagu. The book is from the library of David Garrick and bears his bookplate.
---
Irish bindings
BIBLE
Edinburgh: 1716 [Dx-i.25]
This binding is probably Irish since it has a peacock roll similar to that illustrated in Craig, plate 52, and Hobson, Bindings in Cambridge Libraries (pl. LXIX, no. 3). A similar binding on another copy of the same edition of the Bible was sold at Sotheby's on 4th February 1953; it had inlays of black and white leather and was described as Irish.
ERASMUS
Colloquia familiaria
Dublin: 1731 [BG44-i.25]
A contemporary Dublin binding, with a W-roll on the covers.
CICERO
Opera Vol. VIII
Glasgow: 1769 [Mu48-e.8]
This is one of a set of twenty uniformly bound volumes. They are certainly Irish bindings for the decoration on the covers is made up of the W-roll and the vase or mirror tool, both used by Irish eighteenth-century binders. Dr. Craig, writing of the binding of a book published in 1767 (plate 45) says: "The occurrence of the W-roll is surprising at so late a date."
ANCOURT, ---------d', Abbé
The lady's preceptor
Dublin: 1760 [BD14-i.38]
Irish binding in dark red morocco with white leather inlay. Some of the tools used seem to be the same as those used on the bindings illustrated in Craig's Irish bookbindings (plates 35 and 37), of which he says: "A number of tools ... were used by Parliamentary Binder B ... The embossed leaf-tools seem to indicate French influence."
AESOP
Select fables
Birmingham: Baskerville, 1761 [BD14-i.18]
This Irish binding features the plumed trophy tool in its later version which appeared from 1763 onwards (see Craig, p. 8,10). Irish bindings were often placed on imported books and Baskerville's publications seem to have been particularly popular.
BIBLE
Cambridge: Baskerville, 1763 [BDA1-y.11]
This Irish Parliamentary binding is one of red goatskin tooled in gold, the covers with onlaid cream paper centrepieces, opening to the ground leather, and blocked with the Royal arms, 'dentelle' borders with the field decorated with scattered tools; the spine has seven raised bands and eight compartments, with onlays of green goatskin and cream paper. It was presented to Glasgow University Library in 1932 by Mr. Leonard Gow, a Glasgow magistrate.
Sir Edward Sullivan stated that the decoration of this binding bore a close resemblance to that on the Journal of the Irish House of Lords of 1776-78, which was one of the 149 volumes destroyed by fire in 1922. The style, however, points to the 1790s as the likely date of execution. It is not possible to identify with certainty the individual binder but it is probably from the bindery of Abraham Bradley King who was the King's Stationer in Ireland. Bradley King probably never worked at the bench but ran a bookbinding department as part of his stationery business.
See: Five hundred years of the art of the book in Ireland (p.148)

MacBRIDE, David
Experimental essays
London: 1764 [Bm1-h.2]
This binding has a white leather onlay with ostrich feather tools as shown in Craig, plate 41, together with the plumed trophy tools. The wave border and birds with sprays in their beaks are also frequently found on Irish bindings. The volume has a presentation inscription to Glasgow University Library from the author, an Irish surgeon who had studied at Edinburgh.
AESCHINES
In Ctesiphontem
DEMOSTHENES
De corona
Edited by Joseph Stock
Dublin: 1769 2 vols [N.7.11,12]
Irish binding with a wave border. The book is a presentation copy from the editor, who was Bishop of Killala and afterwards of Waterford and Lismore, to Dr. Anthony Askew, a well-known book collector who attempted to secure a complete series of all the Greek classics ever published.
The Letters of Junius
London: 1775 [RB 2998-9]
Since it has a lozenge-shaped white leather inlay, this binding is probably Irish, but the tools strongly resemble those used on a number of Scottish bindings of the period, and the possibility that it is a Scottish imitation of an Irish binding cannot be ruled out.
EATON, Richard
The book of rates
Dublin: 1765 [BD14-i.9]
Craig, plate 42, shows a copy of this book in a very similar binding. He comments: "The outer roll used is of a type frequent on Irish bindings. Though the tooling is not of first-rate precision, this binding is shown as an example of the most exuberant Irish style, on a small volume." On the covers of this copy there are dark blue name-panels lettered in gold: "His Excellency John Ponsonby". Ponsonby was Speaker of the Irish House of Commons, 1756-1771.
O' FLAHERTY, Roderic
Ogygia
Dublin: printed by W. M'Kenzie, 1793 2 vols [Mu8-e.12,13]
These volumes were almost certainly bound as well as printed by William M'Kenzie or McKenzie, who was a bookseller, printer and binder in Dublin from 1784 to 1817. They are typical of his style, being in tree calf with red and black lettering-pieces, green edges, and splash-marbled endpapers.
---
Ed. Moor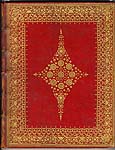 WARING, Edward
Miscellanea analytica
Cambridge: 1762 [Cz.1.14]
A binding by Ed. Moor who worked in Cambridge between 1740 and 1769. His work is in the Harleian style but both materials and execution are superior to those of Chapman and Elliot and his bindings are among the most attractive of the mid eighteenth century.

---
Roger Payne
BIBLE
Psalms. The whole book of Psalms
Oxford: 1679 [Dg-a.1]
Dr. Philip Bliss, 1787-1857, antiquary and book collector, under-librarian of the Bodleian, stated that this binding was by Roger Payne, who has been described by Mr. Nixon as "the most interesting and most influential of English eighteenth-century binders".
ALBERTUS, Magnus
Liber aggregationis
[London: c. 1480-86] [Ah-a.29]
This book is described as "Bound by Roger Payne" in a pencil note on a fly-leaf, and the binding is ascribed to him in the Syston Park Sale Catalogue (1884, no. 53). It is in dark green straight-grained morocco, blind-tooled, with brown endpapers, green morocco inner joints, gilt and gauffered edges. The book belonged to William Herbert, 1718-1795, the bibliographer, and was later in the White Knights Library near Reading (George Spencer Churchill, 5th Duke of Marlborough, 1766-1840) and the Syston Park Library (Sir John Hayford Thorold, 1773-1831).
LA FONTAINE, Jean de
Fables
Paris: 1782 [BD1-l.3]
HORSLEY, Samuel
Tracts in controversy with Dr. Priestley
Gloucester: 1789 [BD13-i.34]
CICERO
De officiis
London: T. Payne, 1791 [BD2-h.16]
These three plain bindings in straight-grained morocco are all attributed to Roger Payne by pencil notes on the fly-leaves. They have several features in common with the bindings in the Storer Collection at Eton, described by Sir Robert Birley in The Library, 5th series, XV, 1, but they are later in date and do not have gauffered edges. Thomas Payne, the publisher of De officiis, was Roger Payne's patron but was not related to him.

---
James Scott of Edinburgh
BIBLE
Edinburgh: Alexander Kincaid, 1772 [BDA1-a.2]
This is a typical example of the work of James Scott of Edinburgh, who was active from about 1773 to 1783. It is a presentation copy from the printer to Lady Janet Dundas and is very similar to bindings on another copy of this edition of The Bible and a Book of Common Prayer printed by Kincaid in 1768, both in the Newbattle Collection in the National Library of Scotland, and both presented to William Kerr (commonly called Earl of Ancram), by his grandmother Jane, Marchioness of Lothian, in 1777.
"James Scott was a revolutionary who did for bindings something of what Robert Adam did for buildings. He launched his new-fangled ornaments and designs in Edinburgh, where the traditional styles were still flourishing, and he broke violently away from the earlier forms. He abandoned the charming old gilt and coloured end-papers, and was original even in his treatment of the edges of his books. He may not have been a great craftsman, but he was certainly a man of enterprise and vision." - G.D. Hobson
BIBLE
London: 1675
The Psalms of David in metre
Edinburgh: 1772 [Dv-i.6]
This binding has the same tools of a column with trophies surmounted by a head in a laurel wreath and an angel blowing a trumpet which appear on the Scott binding illustrated in Ramage, Bookbinders of the United Kingdom (plate XIII).
ADDISON, Joseph
Poems
Glasgow: 1775
GAY, John
Poems
Glasgow: 1770
MASON, William
Poems
Glasgow: 1774 [BD12-i.10]
These are part of a set of 41 volumes published by the Foulis Press between 1770 and 1776 and uniformly bound. They all bear the signature of Mrs. Margaret Hepburn Belshes, wife of Thomas Belshes, sheriff-clerk depute of Edinburgh, and presumably they were specially bound for her. They have all the appearance of having been done in Scott's workshop - the cluster of instruments, the figure of Apollo, the bands of diced ornaments on the spines, and the tiny shells forming a roll on the covers, are all typical.
BOYD, Robert
Judicial proceedings before the High Court of Admiralty of Scotland
Edinburgh: 1779 [BDA1-a.1]
This volume has a presentation inscription from the author to the Principal and Professors of the University of Glasgow, dated 22nd October 1785, and is inscribed on the title-page: "Bound by Willm Scott Edinr 1785". William Scott was a relative of James Scott and was probably his successor. His name appears in the list of subscribers to Burns' Poems (1787). Two of the tools on this binding, the cluster of instruments and the angel blowing a trumpet (on the spine) were used by James Scott.
CUNINGHAME, William
Tentamen medicum inaugurale de cynache tracheali
Glasgow: Andrew Foulis, 1790 [Mu55-f.19]
This was a presentation copy to Dr. John Mackie (1748-1831) and bears the author's inscription. The curious octopus-like tool on the cover, or one very like it, was used by James Scott of Edinburgh, but the binding is too late to be his work. It is, however, contemporary Scottish binding, almost certainly executed in Edinburgh or Glasgow.
---
Scottish Herringbone Bindings
The herringbone design, consisting of a vertical fillet with horizontal ornaments placed symmetrically like ribs, was one of the two distinctive styles evolved by Scottish binders in the eighteenth century, and was the more popular of the two. It probably arose from a desire to fill the central panel which had become so common a feature of late seventeenth-century bindings.

BIBLE
London: 1695 [Dx-b.2]
The herringbone is made up of floral sprays, with a tulip at top and bottom within a panel of wavy lines with another row of flower tools including thistles, daisies and tulips.
CHURCH OF ENGLAND
Book of Common Prayer
Edinburgh: 1744 [Mu38-i.4]
The initals AG are stamped on either side of the centre of the herringbone which is made up of leaves. Pyramids with the letter G in the centre (possibly standing for Grand Lodge) appear on either side of the panel and there are masonic symbols at the head and foot of the panel.
BIBLE
Psalms. The Psalms of David in metre
Glasgow: 1757 [Mu33-h.18]
The crude workmanship and simple design suggest that this was probably a trade binding and was most likely executed in Glasgow where it was "printed by William Duncan sen. and sold at his shop in Gibson's Land, Salt-mercat". The volume was in the Hamilton Bruce collection.
BIBLE
London: 1678 [Ds-f.2]
Dark blue morocco brilliantly gold tooled with a herringbone of leafy sprays surrounded by a roll. At the middle of each side of the panel is a pyramid of "scale" tools and at each corner a stiffly branching tree connects the panel frame with the border roll.
ROW, John
Hebraeae linguae institutiones
Glasgow: 1644 [Mu36-h.32]
The herringbone on this simple binding is made up of "turnip" shaped tools, one of the most popular tools in use in eighteenth-century Scotland. The volume has the early eighteenth -century bookplate of the Hon. John Hay of Lawfield, for whom it may have been bound.
STEUART, Walter
Collections and observations methodiz'd
Edinburgh: 1709 [S.M. 1160]
A rather unusual design, with a herringbone of turnip tools crossed by a horizontal line of the same tools, set within a panel outlined on either side by semi-circles and sweet sultans. The tools are all of a kind used in England in the seventeenth century.
BIBLE
Edinburgh: 1727 [Db-d.16]
On either side of the panels there are 'half-pears', a type of design which seems to be peculiarly Scottish. The six pyramids of 'scales' are also typical of Scottish bindings of the period. The initials on the covers are presumably those of Janet Borland, for according to an inscription on the fly-leaf she aught this Holy Bible in the year 1750.
BIBLE
Edinburgh: 1722 [BDA1-a.6]
A very typical design which incorporates a herringbone of 'turnip' tools, 'half pears' and 'scales'.
PINDAR
Olympia etc
Paris: 1566 [Bc.4.9]
The vertical 'spine' is formed of linked circles and half-circles combined with other small tools and stippling. There is a rather curious outer roll incorporating (among other things) cherub's heads, vases and thistles.
BIBLES
Edinburgh: 1760 [Du-i.25]
Cambridge: 1779 [Db-d.7]
Cambridge: 1780 [Du-h.6]
These three bindings all feature the distinctive pear, or palm-leaf, shape designs which are found only on Scottish bindings and are of unknown origin.
ROSS, Matthew
Disputatio juridica
Edinburgh: 1772 [Mu27-d.23]
A herringbone design, with turnip ornaments at head and foot, contained within a lozenge-shaped frame. This volume was a presentation copy for Alexander Boswell, Lord Auchinleck, father of James Boswell, the biographer.
---
Scottish Wheel Bindings
The wheel pattern was the second distinctively Scottish type of binding. It appears to be a descendent of the fan pattern common throughout Europe in the seventeenth century.

CATHCART, William Shaw
Disputatio juridica
Edinburgh: 1776 [Bm5-f.6]
A fine example of a wheel binding. The pentagram, or Solomon's seal, occurs four times on each cover. This is frequently found on Scottish bindings and may have been put there to hold the powers of evil in check.
BIBLE. French.
Amsterdam: 1761
BIBLE
Psalms. The Psalms of David in metre
Edinburgh: 1758 [Dc-b.7]
This Scottish binding with Chippendale leanings incorporates pentagrams and pomegranates. Judging from the style, the binding is probably about twenty years later than the book.
HORACE
[Opera]
Glasgow: Robert and Andrew Foulis, 1760 [Mu47-g.2]
A curious 'joke' binding, bearing on the front cover, gold stamped vertically, an inscription in Latin to John Erskine from 'J.P.W.', and on the back cover, similarly stamped, the lines: "Each beau may prise in glittring case/The picture of his own dear face/And lovely self in ev'ry mirror find;/Be this thy glass in ev'ry line/Sense, wit and elegance combine/To form the lovelier portrait of the mind." The lettering-piece on the spine bears the title: "Erskines' Looking Glass".
---
Henry Walther

PLUTARCH
De Iside et Osiride liber
Cambridge: 1744 [BD2-c.19]
This binding is almost certainly by Henry Walther, one of a group of German binders who came to England in the late eighteenth century. It is in red straight-grained morocco blind stamped on both sides with a border of steeples and fleurons. Charles Ramsden in London bookbindings (plate XXV) shows a binding by Walther with the same border, of which he says: "This is a key binding as it links up with a large number of bindings in the Storer Bequest at Eton College, which are unsigned but carry the distinctive steeple tools (3 varieties) very often in gilt."
---
Richard Weir
POLYBIUS, etc
Excerpta
Paris: 1634 [BC1-x.14,15]
This binding is by Richard Wier or Weir, a London bookbinder of Scottish origin, who spent several years at Toulouse working for Count MacCarthy Reagh, a great book collector. As this binding is identical with another known to have belonged to Count MacCarthy, it seems virtually certain that this is one of the volumes which Wier bound while at Toulouse, in the 1770's.

COOPER ,Anthony Ashley, 3rd Earl of Shaftesbury
Characteristicks
Birmingham: 1772 [BD13-e.1-3]
From the tools and the fact that the text is ruled in red, it would seem that this binding may be by Richard Wier or Weir.
---
for John West

CATO, Dionysius
The Book callid Cathon
Westminster: Caxton, 1483 [Bv.2.16]
This volume is from the library of James West, 1704-1772, Joint Secretary to the Treasury, who was described by Dibdin as a 'Non-Pareil Collector'. The Gothick window panelling on the spine was intended to match the remodelling in the Gothick taste of the manor house he bought at Alscot, near Stratford-on-Avon, and is typical of his bindings, of which there are several in the Hunterian collection. John Ratcliffe bought this book for £4.7s.6d at West's sale in 1773 and presumably William Hunter acquired it at Ratcliffe's sale three years later.
---
Francis Bedford

LIBRI, Guglielmo
Catalogue de la bibliothèque de M. L*****
Paris: 1847 [Mu30-b.5]
Signed binding by Francis Bedford, 1799-1883, who was foreman for Charles Lewis and later became the leading Victorian binder. He was described by Hobson as "an admirable craftsman, content as a designer to be merely imitative". This was Libri's own copy.

---
J. Carss & Co. of Glasgow

BIBLE (Latin)
Paris: 1504 [Du-d.7]
A fine binding in the fan style by J. Carss & Co. of Glasgow, a well-known firm in the early nineteenth century. Dibdin describes Carss as "the favourite bookbinder among the cognoscenti at Glasgow".
---
Roger de Coverly

GIFFARD, George
A dialogue concerning witches and witchcraft
London: 1603 [Ag-d.46]
Signed binding by Roger de Coverly, a late nineteenth century London binder. T.J. Cobden-Sanderon studied binding in his shop in 1883, and in 1894, the year that Cobden-Sanderson established the Doves Bindery, Charles McLeish the younger was apprenticed to de Coverly, who at that time was working with his two sons.


---
Etruscan style: William Edwards of Halifax
CHURCH OF ENGLAND
The book of common prayer
Paris: printed by P. Didot, sen. and sold by W. Edwards and Sons, Halifax: 1791 [Dd-d.8]
OPIE, Amelia
Poems
London: 1804 [BD14-i.28]
Two examples of the Etruscan style of binding, that is, the decoration of calf bindings by means of acid staining, with classical ornament. The staining was usually in terracotta and black, as in these examples. Both bindings have a border of classical palmettes, and the first has a vase in the centre of the panels. This style was invented by William Edwards of Halifax and was a speciality of his firm, later carried on by his sons.

---
Robert Fairbairn

LORENZO DE' MEDICI
Poesie volgari
Venice: 1554 [BD1-h.7]
Binding by Robert Fairbairn, who was in partnership with Thomas Armstrong 1820-26 and in business alone 1826-40. He was obviously known as a skilled craftsman before 1817 since he was praised by Dibdin in the Bibliographical Decameron and described as "of the Payno-Lewisian school". The corner-pieces of the present binding are copies of those used by Roger Payne. The gauffered, gilt and coloured edges are interesting.

---
Benjamin Fargher and John Lindner
ZINCGREF, Julius Wilhelm
Emblematum ethico-politicorum centuria
Frankfurt: 1624 [S.M. 1114]
This binding is signed by Benjamin Fargher and John Lindner, who were in partnership from about 1802 until 1808 at 3 Exeter Court, Strand, London. It has been suggested that they took over Roger Payne's tools and may have been his disciples. The book is from the White Knights Library, the property of George Spencer, 5th Duke of Marlborough, 1766-1840, which was sold in 1819; presumably the binding was executed for him. Several other bindings from White Knights in Glasgow University Library have similar bindings and, though unsigned, were almost certainly bound by Fargher & Lindner.
---
James Hayday

PAISLEY. Monastery
Registrum Monasterii de Passelet
Edinburgh: 1832 [Mu39-a.19]
A signed binding by James Hayday with the hand-coloured bookplate of Joseph Walter King Eyton. Hayday was a London binder whose name first appeared in the directories in 1825 and who died in 1876, aged 72. He bound a number of books for Eyton, some of them very elaborate productions. This one is handsome and dignified, in a contemporary style.

---
Henderson & Bisset of Edinburgh
APICIUS, Caelius
De re culinaria
Lyons: 1541 [BD2-h.34]
MENCKEN, Johann Burchard
De charlataneria eruditorum declamationes duae
Amsterdam: 1747 [BD3-f.15]
The Opera Glass
Glasgow: 1830 [Bh12-h.29]
Three bindings by Henderson & Bisset of Edinburgh. The first two are in tree calf, a style which was fashionable in the nineteenth century. The sides were stained by the interaction of copperas and pearl-ash to a design resembling a tree, and then highly polished. The firm of Henderson & Bisset was founded in 1823 and in 1839 they were appointed Bookbinders to the Queen. Dibdin writes of them: "Mr. Henderson was an old pupil in the school of the late Charles Lewis: and the mantle of the master sits gracefully upon his shoulders. I augur for these two BIBLIOPEGISTIC WORTHIES a long career of prosperous employment."

---
John Bellingham Inglis

A very proper treatise, wherein is briefly sett forthe the arte of limming
London: 1573 [S.M. 1161]
The binding of this book is identical with one illustrated in Seymour De Ricci's English collectors (plate VII) and there described as a binding made for John Bellingham Inglis in 1825. De Ricci states that in 1826 Inglis sold anonymously a small but extremely choice collection of early plays which were uniformly bound in this way. The present volume is also from the collection of J.B. Inglis. The binding is signed by W. Pratt, presumably William Pitt Pratt, who was in business as a binder in London from 1823 to 1838.

---
Owen Jones

GRAY, Thomas
Elegy written in a country churchyard
London: 1846 [BD6-f.12]
This was the first of a series of bindings, probably designed by Owen Jones, in deeply embossed leather, often with gold lining or tooling along the edges and inside on the squares. For some of these, parts of the design must have been built up under the leather as well as punched by steel or brass die. The firm of Remnant & Edmonds specialized in making these and other embossed bindings and was awarded a Prize Medal for them at the Great Exhibition.
---
Firm of J. Leighton

GALAUP DE CHASTEUIL, Jean de
Discours sur les arcs triomphaux
Aix: 1624 [S.M. 1652]
Binding by the firm of J. Leighton, Brewer Street. John Leighton, one of a family of bookbinders who were in business in London from 1764 until 1920, opened his shop in Brewer Street, Golden Square, in 1820.


---
Charles Lewis

HORACE
Poemata
Florence: 1519 [BD2-i.22]
Binding by Charles Lewis in imitation of a French Renaissance style, with gilt and gauffered edges. The volume has the bookplate of Edwrd Vernon Utterson, 1777-1856, a book collector of importance, and it was probably bound for him. Charles Lewis, 1786-1836, was the most renowned London bookbinder of his time.


---
James MacLehose of Glasgow

JOHNSON, John
Typographia
London: 1824 [Mu30-b.11,12]
Signed binding in the pointillé style by James MacLehose of Glasgow. MacLehose began business as a bookseller in Glasgow in 1838 and about 1862 he established a bookbinding shop where he had his fine leather work done in his own style and with a perfection of workmanship that is seldom attained.


---
Alexander Macnair

MOORE, James
A narrative of the campaign of the British army in Spain
London: 1809 [I.3.4]
A handsome contemporary binding by Alexander Macnair, with his binder's tocket. It has purple silk endpapers with a gilt roll-tooled border and wide turn-ins lavishly tooled in gold. Macnair, whose address was 8 Queen Street, Golden Square, London, was a master binder by 1802 and is listed as one in 1813.


---
John Nelson & Co. of Glasgow

BIBLE
Psalms. The Psalms of David in metre
Edinburgh: 1829 [Mu39-d.12]
A fine binding by John Nelson & Co. of Glasgow, with pale pink watered silk doublures and gilt and gauffered edges.



---
Rivière & Son
LESLIE, John
De origine moribus, et rebus gestis Scotorum
Rome: 1578 [Mu10-g.19]
VERGILIUS, Polydorus
An abridgemente of the notable worke of Polidore Virgile
London: [1570] [Af-e.53]
Two bindings signed by Rivière & Son. Robert Rivière, 1808-82, a London bookbinder of French descent, was commissioned by the Queen and by leading biliophiles. In 1829 he was working in Bath, the move to London taking place about 1840: there his business expanded and became the leading bookbinding firm of the time.

---
Victorian Gothic

HUMPHREYS, Henry Noel
The coinage of the British empire
London: 1854 [BD4-d.26]
This is one of the black papier maché bindings which were supreme examples of Victorian Gothic and perhaps the biggest triumph among all the ingenuities of Victorian commercial bookbinding. They were manufactured by a patent process consisting of a mixture of papier maché and plaster composition, usually on a metal framework.


---
John Wansbrough of Bristol

COWPER, William
Poems
London: 1819 [BD20-i.1,2]
These volumes are examples of landscape bindings. In the centre of the covers are panels on which are drawn freehand (probably using both a pen and a brush, perhaps with a weak solution of copperas) romantic landscapes, a different one on each cover. The binding is by John Wansbrough of Bristol.


---
John Wright

The Paston Letters
London: 1840-41 [BD4-f.19]
A handsome binding in the 'antique' style which became very popular in England following Prince Albert's marriage to Queen Victoria in 1840, because it was though to be a German style. The binding is signed by John Wright, who was described by Ramsden as "a binder of the highest order".



---
References
Baltimore Museum of Art The history of bookbinding 1957
Craig, M. Irish bookbindings 1954
Hobson, G.D. Thirty bindings 1926
Hobson, G.D Bindings in Cambridge libraries 1929
Hobson, G.D English bindings, 1490-1940 in the Library of J.R. Abbey 1940
McDonnell, Joseph Five hundred years of the art of the book in Ireland 1997
Mitchell, W.S. A history of Scottish bookbinding 1432 to 1650 1955
Nixon, H.M. Twelve books in fine bindings from the library of J. W. Hely-Hutchinson 1953
Nixon, H.M. Broxbourne Library; styles and designs of bookbindings 1956
Oldham, J.B. Shrewsbury school Library bindings 1943
Oldham, J.B. English blind-stamped bindings 1952
Oldham, J.B. Blind panels of English binders 1958
Ramage, C. Bookbinders of the United Kingdom (Outside London) 1780-1840 1954
Ramage C. London bookbinders 1780-1840 1956