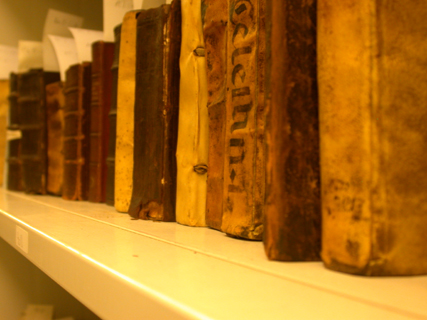 A shelf of "old library" books organised into the sequence in which have been found in the library of 1691. These volumes, being smaller (mostly duodecimo format), would have been found on one of the upper shelves of the tier, with larger books, quartos and folios on the lower shelves
Research to date suggest that each of the lettered sections (A, B, C, etc, through to AZ) corresponds to a vertical tier of shelving, which means that there were 46 tiers to start with; and, if working hypotheses about the later addition of sections BA-BS are correct, another 18 being added (or at least filled) somewhat later. Within each of these tiers the books were arranged by size, in up to seven shelves. It is clear that the shelves were numbered from the bottom, since the larger books are in the lowest numbered shelves.

In section AT the bottom shelf was at least 36 centimetres high, and the total shelf height for the seven shelves in the tier was at least 142 centimetres; allowing for clearances and the thickness of the shelves, we must assume that the tiers were about 2 metres high (not all that different from Glasgow University Library now). At least some shelves in the Library were considerably longer than modern Library shelves: in Section AT they must have been at least 115 centimetres wide (the modern standard is 90 centimetres). This implies very strong shelves, and high cost, since apparently, the oak which would have been the appropriate material was difficult to acquire in Scotland.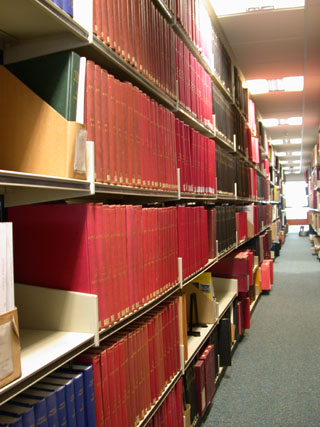 The shelving in the 1691 Glasgow University Library was similar in height to current library shelving (pictured) but wider and made of oak