Quick Links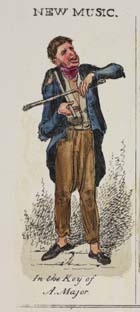 New Music in the Key of A Major - satirical image from the Glasgow/Northern Looking Glass (Sp Coll Bh14-x.8).
Wylie Collection
Almost 1,000 volumes relating to the history and topography of Glasgow and its environs from the 18th century to the early 1900s, including valuable material on the Glasgow International Exhibitions of 1888 and 1901.
The collection contains a number of Glasgow periodicals of the 18th and 19th centuries and a series of Glasgow directories, the earliest dated 1783. There are also substantial collections of printed ephemera: broadsides, playbills, advertisements, valentines and chapbooks. Also included is a small quantity of manuscript material, including photographs and watercolours.
Bequeathed in 1921 by Robert Wylie (d.1921), chairman of the Glasgow firm of furnishers, Wylie & Lochhead, and a founder member of the Glasgow Bibliographical Society.
How to find material in the Wylie Collection
See also the following 'book of the month' articles that feature items from the Wylie Collection: