Professor John Mcmurray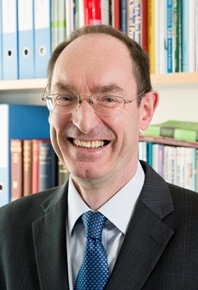 RC217Level C2, Institute of C&MS, BHF GCRC, Glasgow G12 8TA
Professor of Cardiology (Institute of Cardiovascular and Medical Sciences)
Associate (School of Medicine)
John McMurray is Professor of Medical Cardiology in the Institute of Cardiovascular and Medical Sciences at the University of Glasgow, UK and Lead Consultant Cardiologist at the Western Infirmary, Glasgow. He served as the inaugural Eugene Braunwald Scholar in Cardiovascular (CV) Disease at the Brigham and Women's Hospital, Boston, USA, and visiting Professor of Medicine, Harvard University, Boston, in 2010/2011. He is also Past-President of the Heart Failure Association of the European Society of Cardiology (ESC).
Professor McMurray's primary research interest is in heart failure (HF) and his main research activity is clinical trials. He is, or was, the principal investigator, and member of the executive committee or steering committee in a number of large trials in HF, other CV diseases, renal disease and diabetes. He chairs the event adjudication group at Glasgow University, which has served as the endpoint committee for many trials. He has also participated in many data monitoring/safety committees.
Professor McMurray sits on the editorial board of the New England Journal of Medicine, as well as several leading CV journals, including the European Heart Journal and European Journal of Heart Failure. He has published approximately 600 original papers, reviews, and book chapters and is the primary author or editor of 13 books and was the lead author of the World Health Organization and first Scottish Intercollegiate Guidelines Network Guidelines on the Management of HF. In addition he was a member of the 2008 ESC HF Guidelines Task Force, and Chair of the 2012 Task Force; Co-Chair of the Kidney Disease Improving Global Outcomes Anemia Guidelines Committee; and member of the 2013 American College of Cardiology/American Heart Association HF Guidelines Committee. He is a member of the National Institute for Health and Care Excellence (NICE) Acute HF Guidelines Committee and was recently appointed to NICE (Appraisal Committee A). Professor McMurray was recently identified as one of the 400 most influential biomedical researchers in the world and he was also included in the new 2014 listing of Highly Cited Researchers by Thomson-Reuters.1-2
Boyack KW, Klavans R, Sorensen AA, Loannidis JP. A list of highly influential biomedical researchers, 1996-2011 Eur J Clin Invest 2013;43:1339-65.
Research:
Member:
Google Scholar
‌
Grants and Awards listed are those received whilst working with the University of Glasgow.
Longitudinal strain in patients admitted to hospital with heart failure: diagnostic utility and prognosis prediction
NHS Greater Glasgow and Clyde
2015 - 2016

Palliative Care Needs in Patients with Heart Failure
British Heart Foundation
2013 - 2016

Diuretics, Worsening Renal Function and Cardiorenal Outcomes in Heart Failure
European Society for Cardiology
2013 - 2013

Diuretics, Worsening Renal Function and Cardiorenal Outcomes in Heart Failure
European Society for Cardiology
2013 - 2013

Clopidogrel compared to Aspirin in Chronic Heart failure (CACHE)"
Department of Health
2010 - 2015

Effect of metformin on progression of carotid atherosclerosis in non-diabetic patients with CHD optimally treated with conventional risk reducing agents
Scottish Executive Health Department
2008 - 2012

Microvolt T-wave alternans in chronic heart failure: a study of prevalence and incremental prognostic value.
Scottish Executive Health Department
2007 - 2009

Microvolt T-wave alternans in chronic heart failure: a study of prevalence and incremental prognostic value.
NHS Endowment Funds
2007 - 2008

Preventing hospitalisation early death from chronic heart failure in Primary Care:A randomised controlled trial of pharmacist-led medication review
Greater Glasgow Primary Care NHS Trust
2007 - 2009

Stroke in Scotland 1986-2004:epidemiology and impact on population and health care
Scottish Executive Health Department
2007 - 2009

Hydralazine in heart failure - a study of the mechanisms of action in human blood vessels
British Heart Foundation
2006 - 2009

Long term consequences of socioeconomic deprivation on cardiovascular outcomes: a 25 year follow up of the Renfrew / Paisley
Scottish Executive Health Department
2005 - 2008

Investigating the frequency and causes of anaemia in patients with chronic heart failure
Scottish Executive Health Department
2005 - 2007

High Fidelity Phenotyping combined with genomics, proteomics and metabonomics close to the patient
British Heart Foundation
2004 - 2008

Can guiding medical treatment by measurement of blood N-terminal pro BNP concentration improve outcome in chronic heart failure?
British Heart Foundation
2004 - 2006

Muscle wasting in chronic heart failure - a role for cyclin-dependent kinase inhibitors
British Heart Foundation
2003 - 2005