Professor Eleanor Davies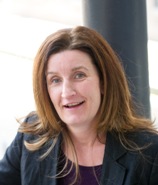 RC431 Level C4, Institute of C&MS, BHF GCRC, Glasgow G12 8TA
Professor of Molecular Endocrinology (Institute of Cardiovascular and Medical Sciences)
Associate (School of Medicine)
I graduated from Glasgow University with a BSc (Hons) Biochemistry and then from Edinburgh University with a PhD. After a 3-year INSERM Fellowship in Paris, I returned to Glasgow in 1994.
My main research interest is the role of the steroid hormones aldosterone and cortisol in cardiovascular disease. These hormones are made in the adrenal gland by the enzymes aldosterone synthase and 11b-hydroxylase and are encoded by the CYP11B2 and CYP11B1 genes respectively.
Working with Professor John Connell, our studies have been funded by successive Programme Grants from the MRC in addition to Project Grants from the British Heart Foundation and the Wellcome Trust. We have adopted a translational research approach integrating basic molecular biology, in vitro cell biology and human investigations, ranging from small focussed studies in normal and hypertensive subjects to large-scale population studies. The availability of many of these large, unique populations has been achieved through several successful collaborations with a number of complementary centres.
Using these tools, we have made a number of key observations. These include the identification of the heritable nature of corticosteroid synthesis, the identification of several novel polymorphic variants in CYP11B2, association of this variation with increased aldosterone production and hypertension. There is also evidence of inefficient 11b-hydroxylation which appears to be due to tight linkage dysequilibrium of the variants in CYP11B2 with novel causal variants in the regulatory region of the CYP11B1 gene which alter gene transcription. These studies represent a significant advance in our understanding of adrenal steroid synthesis regulation and the contribution of steroids to cardiovascular dysfunction.
Research:
Research Collaborations:
Professor Bill Rainey, Georgia, USA
Dr Rebecca Reynolds, Edinburgh, UK
Dr Chris Kenyon, Edinburgh, UK
Prof Bernard Keavney, Newcastle, UK
Prof Celso Gomez-Sanchez, Mississippi, USA
Grants and Awards listed are those received whilst working with the University of Glasgow.
ENSAT-HF
European Commission
2015 - 2020

Understanding the genetic regulation of adrenal steroid hormones in cardiovascular disease â?? Developing a stratified approach to cardiovascular care
Scottish Executive Health Department
2014 - 2016

Conference Grant
Society for Endocrinology/Clinical Endocrinology Trust
2013 - 2015

Travel Funding
Society for Endocrinology/Clinical Endocrinology Trust
2012 - 2013

Analysis of the Adrenodoxin and Adrenodoxin Reductase Genes in Cardiovascular Diseases
Medical Research Foundation
2011 - 2012

Conference Grant
Society for Endocrinology/Clinical Endocrinology Trust
2010 - 2011

Regulation of aldosterone synthase (CYP11B2) and 11b-Hydroxylase gene expression by novel micro RNAs
British Heart Foundation
2010 - 2013

Society for Endocrinology - Travel Grant
Society for Endocrinology/Clinical Endocrinology Trust
2010 - 2011

Variation in promoter function in CYP11B2 and regulation of aldosterone secretion in cardiovascular disease
MRC
2007 - 2010

Regulation of aldosterone and cortisol synthesis in hypertension and cardiovascular disease
MRC
2005 - 2011

Functional analysis of polymorphisms/mutations in steroidogenic genes and their implications for human cardiovascular homeostasis
British Heart Foundation
2005 - 2007

Quantification of 11 beta-hydroxylase (CYP11B1) gene expression in adipose tissue from normal and obese human subjects
Tenovus-Scotland
2004 - 2005

Expression of 11 beta-hydroxylase and aldosterone synthase in the human central nervous system
North Glasgow University Hospitals NHS Trust
2003 - 2005

The Role of Corticosteroids in Cardiovascular Regulation - Studies of the Molecular Basis for Altered Steroid Synthesis
MRC
2000 - 2005

Editorial Board
2009 - ongoing: Endocrinology USA - Editorial Board Member
2003 - 2007: Endocrinology - Member
Grant Advisory Board
- ongoing: Medical Research Council - Grant reviewer
- ongoing: Wellcome Trust - Grant reviewer
- ongoing: British Heart Foundation - Grant reviewer
- ongoing: BBSRC - Grant reviewer
- ongoing: Royal Society - Grant reviewer
Professional Learned Society
2012 - 2012: Society for Endocrinology - Programme Co-ordinator for BES 2012
2011 - 2015: Chief Scientist Office - Member of Experimental and Translational Medical Research Committee
2010 - 2014: Society for Endocrinology - Member of Programme Committee
2009 - 2010: International Aldosterone Conference (USA) - Chairman
2008 - 2009: International Aldosterone Conference (USA) - Co-Chairman
2005 - 2008: Society for Endocrinology - Member of Science Committee
2005 - 2009: Society for Endocrinology - Member of Science Committee
2005 - ongoing: Faculty of Medicine 1000 - Faculty Member of Diabetes and Endocrinology