Professor Colin Berry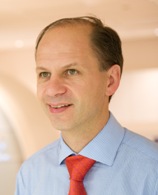 Professor of Cardiology and Imaging (Institute of Cardiovascular and Medical Sciences)
telephone: 01413301671
email: Colin.Berry@glasgow.ac.uk
RC309 Level C3
Institute of C&MS
BHF GCRC
Glasgow G12 8TA
Current position
Professor Colin Berry is a Scottish Senior Fellow and holds a Chair in Cardiology in the University of Glasgow. He is a Fellow of the Royal College of Physicians and Surgeons of Glasgow and Fellow of the American College of Cardiology. He is an Honorary Consultant Cardiologist at the Golden Jubilee National Hospital and Western Infirmary, Glasgow. His subspecialty interests are Interventional Cardiology and Imaging. Professor Berry jointly founded the Scottish Heart Disease Research Collaboration and the Scottish Cardiovascular Imaging Network.
Research interests
His research focuses on injury and repair pathways in heart attack and heart failure. His group's research seeks to better understand the nature of heart muscle injury, including causes, consequences, and health outcomes in the longer term. A current focus is heart muscle bleeding after a heart attack. His research uses novel research technologies such as MRI and coronary "pressure wires" and current and future studies are aimed to identify new treatments (such as stem cells) which may help patients who have had a heart attack.
His research has been supported by the British Heart Foundation, Chest Heart and Stroke Scotland, Chief Scientist Office, Medical Research Scotland, Scottish Funding Council and Wellcome Trust.
Background
Professor Berry undertook undergraduate medical studies at the University of Glasgow (1987-1993) and completed an intercalated science degree (Maîtrise, Physiology) at the University of Paris (1989-1990). He was awarded a PhD at the University of Glasgow (2002) in Cardiovascular Science and his studies were supported by a Medical Research Council Clinical Training Fellowship.
Professor Berry trained in Cardiology and Internal Medicine (2001-2006) first in Glasgow and then at the Montreal Heart Institute (2005-2006). Whilst in Montreal, he worked in Professor Jean-Claude Tardif's Atherosclerosis Research Group and used coronary imaging techniques to study stem cells and coronary artery disease. His research in Montreal was supported by a British Heart Foundation International Fellowship and an International Exchange Award from the Royal Society of Edinburgh. When in Montreal, he became the first British clinician to participate in transcatheter aortic valve replacement. He recently completed post doctoral studies (2007-2009) at the National Heart, Lung and Blood Institute, US National Institutes of Health, Bethesda, MD.
My Research:
Number of items: 98.
2014
2013
2012
2011
2010
2009
2008
2007
2006
2005
2004
2003
2002
2001
This list was generated on Mon Sep 22 10:04:29 2014 BST.
Number of items: 98.
Article
Book Section
This list was generated on Mon Sep 22 10:04:29 2014 BST.
Grants and Awards listed are those received whilst working with the University of Glasgow.
Contribution to Salary Costs Dr Kenneth Mangion
NHS Greater Glasgow & Clyde
2015 - 2015

Microvascular Dysfunction in Patients with Angina: The CE-MARC2 Microvascular Substudy
British Heart Foundation
2014 - 2017

DISCHARGE
European Commission
2014 - 2019

Investigating the therapeutic potential of cathepsin-L inhibition to limit ischaemia-reperfusion injury in the heart
Scottish Executive Health Department
2013 - 2015

Magnetic Resonance Imaging Using Ultrasmall Superparamagnetic Particles of Iron Oxide to Predict Clinical Outcome in Patients Under Surveillance for Abdominal Aortic Aneurysms: the MA3RS Trial
Medical Research Council
2012 - 2016

Clinical Evaluation of 3T Magnetic Resonance Imaging for the management of patients with Coronary heart disease: the CE-MARC2 study
British Heart Foundation
2012 - 2017

Clinical Research Fellowships
NHS Greater Glasgow & Clyde
2012 - 2014

Finite element-immersed boundary method and its application to mitral valves
Engineering & Physical Sciences Research Council
2012 - 2015

Fractional Flow Reserve versus Angiographically Guided Management to Optimise Outcomes in Unstable Coronary Syndromes: a Developmental Clinical Study
British Heart Foundation
2011 - 2014

Gene Therapy for Vein Graft Failure
MRC
2011 - 2016

Investigating the potential of cathepsin-L as a common therapeutic target and biomarker for coronary heart disease and African trypanosomiasis (ISSF Catalyst Fund)
Wellcome Trust
2011 - 2014

A pre-trial model of the cost-effectiveness of fractional flow reserve measurement in NSTEMI
Scottish Executive Health Department
2011 - 2012

Novel circulating injury and repair pathways in acute myocardial infarctiion: validation with cardiac MRI
NHS Greater Glasgow and Clyde
2011 - 2012

Validation and significance of myocardial haemorrhage revealed by "bright blood" T2-weighted MRI in heart attack survivors: a prospective cohort study.
British Heart Foundation
2011 - 2014

A randomised controlled trial of the effect of remote ischaemic conditioning on coronary endothelial function in patients with angina
Chest, Heart & Stroke, Scotland
2011 - 2013

Acquired Heart Valve Disease in Scotland: An epidemiological study
Scottish Executive Health Department
2011 - 2012

Cardiac magnetic resonance imaging: technical development to enable new pathological insights in acute myocardial infarction
Scottish Executive Health Department
2010 - 2012

Cardiac magnetic resonance imaging: new pathological insights and functional significance in acute myocardial infarction
Medical Research Scotland
2010 - 2013

Induced pluripoptent cells: analysis of cell reprogramming of dermal fibroblasts derived from patients with disease vs age-matched healthy controls
British Heart Foundation
2009 - 2012

3 Tesla Cardiac Magnetic Resonance Imaging Facility at the BHF Glasgow Cardiovascular Research Centre
British Heart Foundation
2008 - 2009

Quantifying myocardial microvascular obstruction in patients with STEMI (ST elevation myocardial infarction)
Scottish Executive Health Department
2008 - 2010

Endothelial Repair:Relationships with Human Coronary Atheroma in Vivo
British Heart Foundation
2005 - 2006