A Catalogue of works published 1529-1793 preserved in Glasgow University Library, with an appendix listing manuscripts containing items by or about Paracelsus
Catalogue originally published on the occasion of the symposium The transformation of Paracelsianism 1500-1800: Alchemy, Chemistry and Medicine Glasgow, 15-19 September, 1993, organised jointly by the Herzog August Bibliothek, Wolfenbüttel, the Wellcome Unit for the History of Medicine and the University Library Special Collections Department to commemorate the 500th anniversary of the birth of Paracelsus.
Introduction and catalogue by David Weston. Revised for the web by Julie Gardham in March 2000.
Introduction
In 1921 the University Court of Glasgow accepted the recommendation of its Library Committee that it should acquire the chemical library of the late Professor of Chemistry, John Ferguson (1837-1916). In so doing the Library received not only a fitting memorial to one who had taught within its walls for over forty years, but also one of the finest libraries ever assembled in the fields of alchemy, early chemistry and hermetic philosophy. Comprising around 7,500 volumes it is several times greater than the Young collection (now in the care of the University of Strathclyde) which formed the basis of Ferguson's most famous work of bio-bibliography, the Bibliotheca chemica: a catalogue of the alchemical, chemical and pharmaceutical books in the collection of the late James Young. Glasgow, 1906.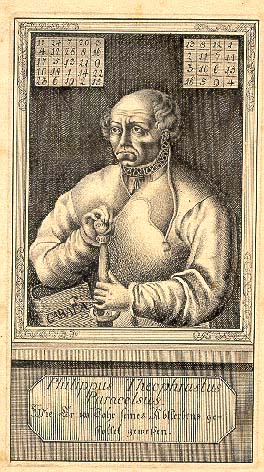 frontispiece of MS Ferguson 219